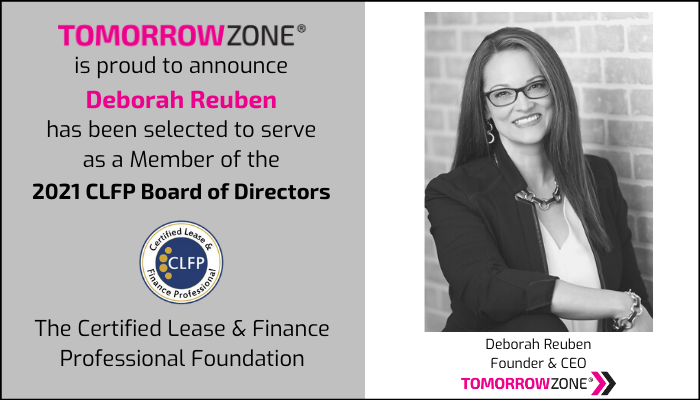 CEO and Founder of TomorrowZone® and Beyond Convention EF Innovators UnConference, Deborah "Deb" Reuben, CLFP, was elected to the 2021 Certified Lease & Finance Profession (CLFP) Board of Directors. The CLFP Foundation's mission is to build a better commercial equipment leasing and finance industry by helping its individuals achieve exceptional standards of professional conduct and technical expertise.
A creative technology strategist and problem solver, this newly elected position confirms she is a catalyst for new thinking. With her broad equipment finance and professional background in both financial services and the software industry, Reuben has led many transformation initiatives, one being the Beyond Convention EF Innovators UnConference. A virtual space for forward-thinking leaders to connect, she devised a platform inspiring fresh ideas and collaborations to shape the future of equipment finance.
She is also the Founder and CEO of TomorrowZone®, a future-focused technology strategy consulting firm, where she works to explore the art of the possible through her extensive technical knowledge, equipment finance experience, and passion for challenging the status quo. Specializing in industry trends and strategic direction, with a holistic and relatable approach, she guides leaders who want to capitalize on the latest innovations to stay ahead of industry disruption.
A member of ELFA's Board of Directors, Reuben chairs the ELFA's Technology Innovation Working Group and serves on the Monitor Editorial Board, co-founded the Disrupted+ conference series with Monitor. She authored The Certified Lease and Finance Professionals' Handbook, 6th and 7th and 8th editions. She is the recipient of both the CLFP Foundation Cindy Spurdle Award of Excellence and the ELFA Michael J. Fleming Distinguished Service Award. Monitor Magazine honored her as one of the 50 Most Powerful Women Leaders in Equipment Finance
Congratulations, Deborah!