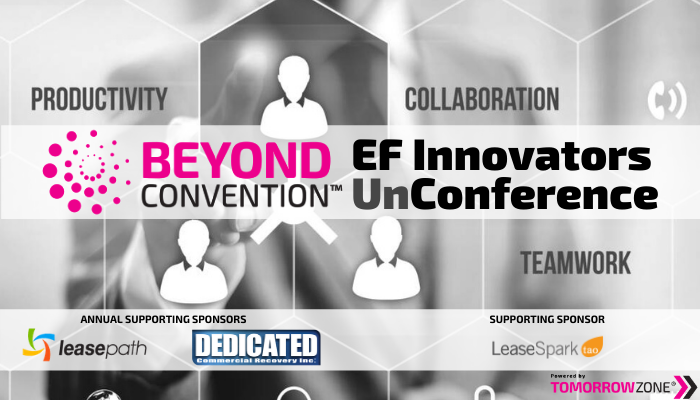 The Equipment Finance Innovator Community is coming together virtually again for deep dives into technology and innovation topics specific to shaping the future of equipment finance.
February 5, 2021 – Deborah Reuben, CEO & Founder of TomorrowZone® announced the lineup for the Beyond Convention: EF Innovators UnConference Winter 2021 Series, scheduled to begin in mid-February.
The live session series is designed to bring together forward-thinking professionals to learn, connect, and collaborate in shaping the future of equipment finance.
"The landscape of business has shifted dramatically. Staying on top of technology and trends is pivotal for shaping our future," said Deborah Reuben, CEO & Founder of TomorrowZone and founder of the Beyond Convention: EF Innovators UnConference. "The challenge: we get caught up in the day-to-day and don't have the time to think long term. We help you take the time to discover what's next among peers who are on the same journey."
The series and online community's focus is to showcase innovation thought leadership and elevate beyond that to turn ideas into tangible actions. It's part think-tank, part working group, part meet-up, and part hang out — an online place to escape from the status quo.
The EF Innovators UnConference Winter 2021 Series is supported by our forward-thinking sponsors:
Leasepath
Dedicated Commercial Recovery
TAO Solutions
Guest Speaker/Collaborator Line Up Includes:
February 18, 2021: Rapid Evolution of Smart Contracts & New EF Possibilities with Bart Cant of Rethink Ledgers and Manish Grover of DigitalAsset
February 25, 2021: New possibilities for Virtual Leadership Communication with Chris Cummins of Cummins Media
March 4, 2021: Disruptive Innovation: It's Your Worst Headline… Now What? with Grant Wood of Knotion Labs
March 9, 2021: Disrupting Design Thinking: Jumpstart Workshop with the team from Sprint Base & Treehouse Innovation
March 23, 2021: Innovating Through Chaos with Adi Mazor Kario of Invincible Innovation
March 25, 2021: Innovator Roundtable with Deborah Reuben
A portion of registration fees are donated to Technovation[MN], an organization that inspires and empowers teen girls to build technology to impact their communities.
To learn more and register for the series, visit www.beyondconvention.io
About TomorrowZone®
TomorrowZone's Beyond Convention: EF Innovators UnConference is the only virtual community of professionals devoted to technological innovation trends and what they mean specifically for the equipment finance sector. Their mission is to help the industry embrace innovation, adopt technology, and future-ready their businesses. Their intelligence, consulting, and collaboration platform inspires the next generation of ideas, processes, and people to champion the nearly trillion-dollar industry.
TomorrowZone® is a consulting firm devoted to inspiring both futuristic thinking and action to innovate in the equipment finance and tech sector. Learn more at www.tomorrowzone.io