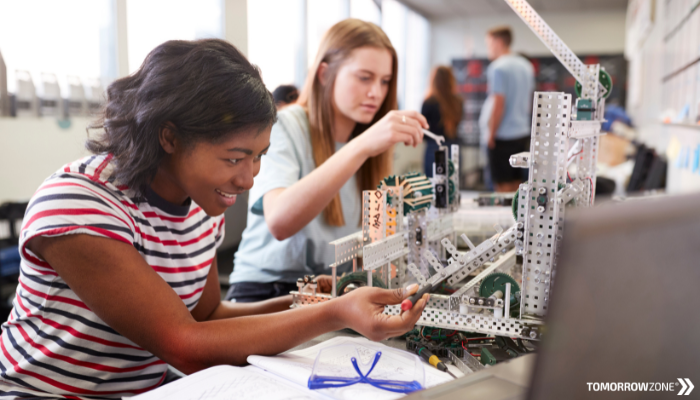 This article was originally published by MonitorDaily in June 2023.
Reprinted with permission from the author.
How will the equipment finance industry ensure the growth of its workforce for years to come? In this two-part interview, Deborah Reuben sits down with the leaders of The CLFP Foundation and CreateMpls to discuss how to attract the next generation.
Innovation is key to building a better future, but how do we ensure we have the workforce to support it? Many of us fell into our careers in equipment finance by chance, but what if we could change that? What if we were intentional about building the workforce of the future?
To explore this topic, I had the pleasure of sitting down with Reid Raykovich, CEO of the CLFP Foundation, and Lia Wax, president of the CLFP Foundation and VP of Operations and Contract Management at Financial Pacific. They shared their innovative approach to college student outreach. But what about attracting talent beyond the college level? To find out more, I spoke with Rob Warland, executive director of createMpls, about their groundbreaking STEM programs for middle and high school students.
The following is my conversation with these leaders discussing their ideas for building the workforce of the future. This interview has been edited for clarity and concision.
College Level Outreach
What is CLFP; why did you pursue it?
Reid Raykovich: The CLFP Designation was created in 1985 by brokers who wanted to distinguish themselves by adhering to high standards. In 2000, it became its own independent entity.
Despite stumbling upon the industry through a job ad for Great American Insurance, I was inspired to pursue the designation after seeing it listed after a client's name. As a salesperson, I didn't want to pretend to understand, I truly wanted to comprehend my leasing customers' needs. So, I earned my CLFP designation. Since then, I have worked for various entities in the industry (bank, independent, broker and service provider) and have remained happy in my career.
Lia Wax: I stumbled into leasing when I moved to the Pacific Northwest and took a file room job at Financial Pacific, knowing nothing about finance. As Financial Pacific had the most employees with the CLP designation at that time, I became curious and pursued the designation once I reached the required five-year industry experience. Though it was challenging, I'm still grateful to have achieved my CLP (now CLFP) today.
How is the CLFP Foundation helping shape our industry's future?
Raykovich: As a small and flexible organization with forward-thinking employees and a visionary board, we can experiment and test out new ideas. We owe a huge thanks to the Equipment Leasing and Finance Foundation for their excellent college level guest lecture program which helped us get to where we are today.
Recently, we were approached by Cisco, which expressed interest in partnering with us for their social justice program and reaching out to Historically Black Colleges and Universities (HBCUs). They proposed taking HBCU students through the CLFP academy and exam. Without hesitation, our board unanimously agreed to this partnership — how could we pass up such an opportunity?
Wax: We are forward-thinking and constantly evolving. Our focus is on providing more education and relevance while ensuring that CLFPs stay up-to-date with the latest industry trends.
Share about bringing the CLFP program to Clark College.
Wax: I'm passionate about learning and wanted to be part of this program as soon as I heard about it. Teaching at various ALFPs has been a great experience for me. The Clark College students were eager and enthusiastic to learn about equipment finance, even giving up their Friday and Saturday to spend eight hours a day on it. Their perceptive questions and curiosity were inspiring, and we hope this will encourage them to consider a career in the industry.
What's next for the CLFP Foundation?
Raykovich: I am passionate about promoting equipment finance and increasing diversity in the industry by reaching out to HBCUs. We plan to expand the program, attend more professional development days and offer the guest lecture program to increase momentum and awareness. The Clark Atlanta Dean asked, "Where have you been hiding this industry?" It's not hidden, just not well-known. We can spread the word.
After our teaching, a Clark College student majoring in sports management said, "I actually want to go into equipment finance." We hope to provide more support, such as lodging, to help students complete internships. Our program has fantastic instructors who are passionate about what they do, and we are committed to continuing the program to reach more students and HBCUs in the Atlanta area."
What excites you about the future of the CLFP Foundation?
Wax: In recent years, we've gained momentum. The pandemic required us to make changes to remain relevant. Those changes enabled us to reach more people than we thought possible four years ago. I'm excited to continue growing and promoting this designation, which provides value to professionals in the industry by offering a holistic view, improving career opportunities and encouraging lifelong learning.
What are your hopes for the future of equipment finance?
Raykovich: I would like to walk into industry conferences and see an entirely different make-up. I am committed to promoting diversity and inclusivity in our industry. It is concerning to me that the make-up of industry conference attendees does not reflect the diversity of our country or industry. I recall attending conferences where there were very few women and young professionals like me.
During our visit to Clark Atlanta, we were the only white people present. I want to see more representation and diversity at industry conferences so that they better reflect the makeup of our country. This is an important value to strive for.
Wax: For me, it's twofold. Partly I'll echo Reid's comments. We recognize the importance of diversity and its positive impact on companies. We have seen progress in gender diversity, and we are now focusing on increasing diversity from a people of color perspective. We are working with Cisco to achieve this goal. Additionally, as more regulations encroach on our industry, we must figure out how to navigate and lobby for changes that allow our industry to continue thriving.
Raykovich: One thing that would be amazing for the equipment finance industry going forward is a dedicated college level course on equipment finance. I think that will change the game for us. Talk about momentum. One school starts doing, then another, then a snowball effect and we really start to see change.
What can leaders do today to shape a better tomorrow?
Wax: Allowing everybody a seat at the table even if it makes you uncomfortable and being very intentional about listening to what they have to say.
Raykovich: Having a culture where mistakes are OK. I encourage taking risks and trying new things, even if they fail.
This has been my most valuable lesson, and I apply it to the foundation. I promote a culture where mistakes are allowed and won't result in termination. However, if you're not trying, I'll push you to do more.
The Long Game: Preparing the Workforce of the Future Pre-K Through Highschool
Share your journey to becoming Executive Director of createMpls.
Rob Warland: I believe many of us stumble into our careers, and I would love to change that narrative for students. I grew up in a small Wisconsin town, worked on farms and attended college because it was expected of me.
Throughout my career, I demonstrated responsibility and secured jobs through my network. Eventually, I oversaw an internship and outreach program for a church in Minneapolis where I met Mel, the founder of Create Minneapolis.
Mel, a 30-year technology veteran, created the organization in 2015 to address the underrepresentation of women and people of color in technology fields. Despite limited funding, Mel invited me to join as executive director. Taking this exciting risk and sacrifice was one of my best career choices, and now, four years later, we are doing well.
What is the createMpls mission?
Warland: CreateMpls aims to eliminate obstacles to technology education for students to increase their success. The three primary obstacles are knowledge, transportation and cost. To overcome the knowledge barrier, we bring technology education directly to schools. Transportation barriers are addressed by delivering programs at the students' schools, eliminating the need for travel to different locations, which may not be feasible for many students.
To overcome the cost barrier, we do not charge for anything.
Our goal is to help students discover the potential of technology and enjoy learning about it both in school and in their future careers. We are thrilled to work with more students who are underrepresented in the tech industry.
How does taking risks relate to positively impacting students and families?
Warland: As a board, we fulfill our mission by innovating and taking risks to remove barriers and achieve our goals. We took a risk by not charging for our services, including Lego robotic sets, drones and staffing. This paid off, allowing us to grow from one to 30 schools and expand program offerings based on student and school needs.
We identified a gap in real-world experience for students, so we are now offering impactful, paid summer internships for high school students to learn about technology. We have openings for 10 students to work with us for 20 hours a week for eight weeks. We pay them while they learn about coding, robotics, hydroponics, machine learning and design thinking. They will meet tech professionals and gain hands-on learning. This opportunity is unheard of, as we are one of the only organizations hiring 15-year-olds to learn about robotics in the Minneapolis and Twin Cities area.
How is your program helping shape the future workforce?
Warland: We prepare students for the future of work through innovative learning opportunities emphasizing the 4 Cs: creativity, critical thinking, communication and collaboration. Our technology classes, including coding, robotics and 3D printing, make students well-rounded for various careers, some that don't exist yet.
We use technology as a tool to teach creativity and critical thinking. Our programs include gamification and competition, teaching problem-solving and communication. By working on projects in teams, students learn the value of collaboration.
We teach the principles of coding through interactive games and building blocks of engineering design processes. As students progress, we introduce more complex coding, continuing to challenge critical thinking and collaboration.
Our goal is to help students learn the 4 Cs, providing them with valuable skills for their future careers.
What are your hopes for the workforce of the future?
Warland: We want to see more diversity in the future workforce. We focus on female and students of color; typically underrepresented in technology.
Upskilling and reskilling are important now. But early exposure is also important; it's a long game. And that's a really hard thing for companies to see. They want that talent now and rightfully so. They need it. But you can't just offer a high school elective assuming everybody's going to sign up. You build relationships and continue working with students, exposing them to IT earlier.
If you have students coming into the workforce who are empowered, confident and they've had technology exposure and opportunity, that changes how they can contribute to society.
What's one thing leaders can do today to shape their tomorrow?
Warland: Humbly listening and considering alternative perspectives is vital. Being humble enough to recognize our opportunities to learn from anyone, whether a 19-year-old, 12-year-old or 65-year old, is essential. It's necessary to be a lifelong learner, gaining knowledge not just from books or webinars but from everyone around us.
CreateMpls prepares underprivileged students for the future workforce through innovative technology education programs delivered at their schools. To bridge skills and experience gaps, createMPLS partners with other organizations to provide quality, hands-on STEM learning to underrepresented inner-city Minneapolis youth, particularly young women and students from racial minority backgrounds. The organization's goal is to increase success in higher education and the current job market. More information at creatempls.org
The CLFP designation is the top credential for equipment leasing and finance professionals, demonstrating their competency through knowledge testing, continuing education, business practices commitment and dedication to the industry. More information at clfpfoundation.org