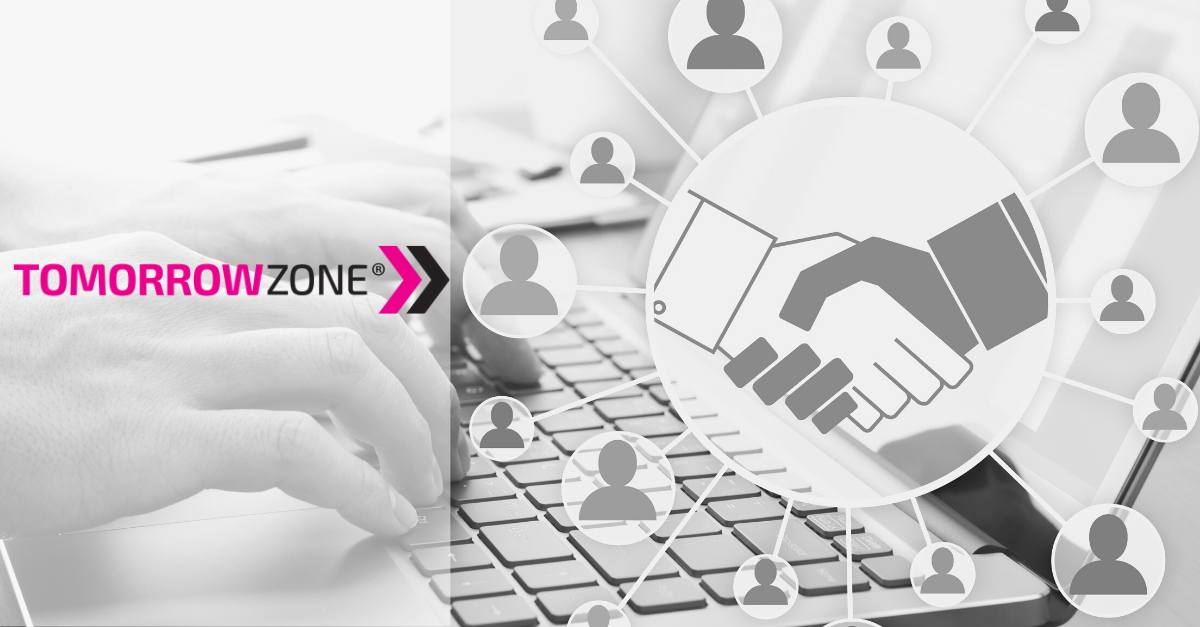 Building on the momentum from our first four virtual collaboration events, TomorrowZone® is partnering with the Equipment Leasing and Finance Association ELFA to deliver the Innovators Roundtable on March 25, 2021. In collaboration with leaders from the ELFA Technology Innovation Working Group, this interactive session will be the final session of the Beyond Convention: EF Innovators UnConference winter series.
The event will feature working group members:
Michael Baez, Manager – Banking & Diversified Financials at Capgemini America, Inc.
Andrew Cotter, EVP, Chief Information Officer at Somerset Capital Group, Ltd.
Eldon Richards, CTO at IDS
Denis Stypulkoski, Founder & Principal at Reimagine Advisors
Moto Todah, VP/IS at Tokyo Century
Here's what Beyond Convention participants are saying about the UnConference experience and ELFA partnership.
Denis Stypulkoski, Principal at Reimagine Advisors and member of the ELFA Technology Innovation Working Group shared, "The TomorrowZone® Unconference platform provides a unique learning experience that promotes relationship building and collaboration while delivered in a virtual environment. It is fitting to first introduce this platform to the ELFA for the delivery of the Innovator Roundtable event."
"Innovation comes from exploration. TomorrowZone® invites people to explore new ideas in collaborative settings, just like ELFA brings all people from the industry together to advance ideas, ideals and principles to make equipment finance work in today's world. This makes the ELFA and TomorrowZone® partnership very promising for all of us," Jeff Bilbrey, CEO at Leasepath, supporting sponsors. "Working with Deb Reuben and TomorrowZone® has given me the opportunity to meet new people both in and outside the industry and explore wide-ranging topics specifically focused on the frameworks of innovation."
"Attending yesterday's virtual session, I met like-minded people who are OK not knowing all the answers and are open to new ideas and perspectives," said Chris Cummins, Managing Partner at Cummins Media. "It was refreshing to meet such a group that probably wouldn't have gathered pre-covid. I was surprised at how quickly I was able to get to know high performing innovators from diverse companies and backgrounds. TomorrowZone®'s ability to facilitate open discussion and to draw people in to participate actively was inspiring. I'll be back next week. Keep it up!"
ORIGINAL PRESS RELEASE FEBRUARY 26, 2021
ELFA Partners with TomorrowZone®
to Bring Innovative Virtual Collaboration Opportunities
to Equipment Finance
First Joint Event Kicks Off March 25
Washington, DC – The Equipment Leasing and Finance Association today announced plans to partner with TomorrowZone®, a future-focused consulting firm specializing in technology trends, to help equipment finance professionals capitalize on the latest innovations to prepare for the future. The partnership will allow ELFA members to access interactive and collaborative virtual experiences to connect and explore cutting-edge technology advances, generate fresh ideas, and include diverse voices in the industry innovation discussion. The collaboration will kick off with the first event, a virtual Innovator Roundtable on March 25 led by TomorrowZone® CEO & Founder Deborah Reuben.
The Innovator Roundtable is designed for equipment finance business and technology professionals and produced in collaboration with ELFA's Technology Innovation Working Group. The goal of the roundtable is to facilitate peer-to-peer discussions on innovation in equipment finance. Attendees will have an opportunity to engage with senior leaders from ELFA's Technology Innovation Working Group in a facilitated open forum on the people, process, and technology sides of innovating in this new world. Attendees will gain insights into:
How industry peers are evolving their thinking about the future of work.
Actionable tips for innovating and collaborating while remote.
Ways that technology is already shaping the future of equipment finance and preparing for what's next.
The Innovator Roundtable will be held on March 25 from noon-2pm central time followed by a facilitated networking experience until 2:30 pm central time. Details and registration information are available at https://tomorrowzone.io/ELFA.
Additional Collaboration
Following the March 25 event, ELFA and TomorrowZone® will produce additional virtual collaboration sessions for ELFA members to expand ongoing discussions about technology and innovation's role in shaping the future of equipment finance. The sessions will take a "digital-first" approach to connecting people and ideas and including diverse voices in these important discussions. Through this partnership ELFA will leverage TomorrowZone®'s unique virtual workshop ideation, design, and facilitation capabilities.
"We are in a time of rapid change, and the equipment finance industry is being challenged to innovate to compete in a new world in which disruption—from automation to blockchain to artificial intelligence—is the norm," said ELFA President and CEO Ralph Petta. "ELFA is pleased to partner with TomorrowZone® to help our members access cutting-edge knowledge, new tech tools and collaborative networks to shape the future of equipment finance."
"Breakthrough ideas come from unusual collaborations, and we are designing virtual experiences to connect with new people and forward-thinking concepts." stated Deborah Reuben, CEO and Founder of TomorrowZone® and creator of Beyond Convention. "We are excited to partner with ELFA to create impactful learning and collaboration opportunities that include fresh voices and ignite new ideas to shape the future."
More information about the Innovator Roundtable on March 25 is available at https://tomorrowzone.io/ELFA.
TomorrowZone® is a consulting firm devoted to inspiring both futuristic thinking and action to innovate in the equipment finance and tech sector. The Beyond Convention: EF Innovators UnConference is the only virtual community of professionals devoted to technological innovation trends and what they mean specifically for the equipment finance sector. Our mission is to help the industry embrace innovation, adopt technology, and future proof their businesses. Learn more at www.tomorrowzone.io
The Equipment Leasing and Finance Association (ELFA) is the trade association that represents companies in the nearly $1 trillion equipment finance sector, which includes financial services companies and manufacturers engaged in financing capital goods. ELFA members are the driving force behind the growth in the commercial equipment finance market and contribute to capital formation in the U.S. and abroad. Its 575 members include independent and captive leasing and finance companies, banks, financial services corporations, broker/packagers and investment banks, as well as manufacturers and service providers. In 2021, ELFA is celebrating 60 years of equipping business for success. For more information, please visit www.elfaonline.org.