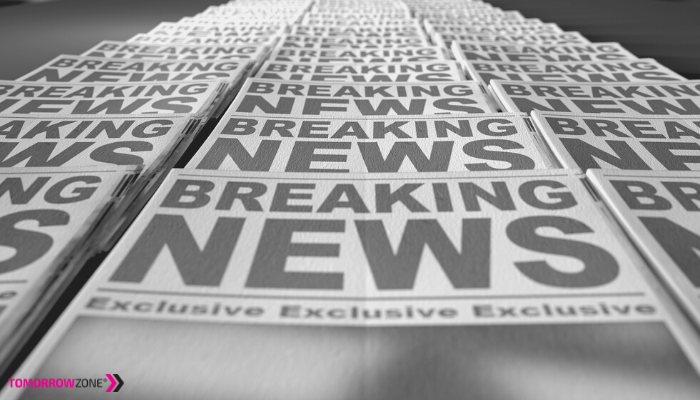 There are common triggering events in any business that can kill innovation initiatives. The secret? Come up with ideas that are so sticky they thrive despite the triggering events.
As a community of thought leaders, we wanted to know what to do next. How do we develop those ideas to shape the future?
On March 4, 2021, TomorrowZone® invited Grant Wood, Founder of Knotion Labs, back to the UnConference stage for the insightful exploration: Disruptive Innovation: It's Your Worst Headline… Now What?
As we learned in our kick-off UnConference event, discovering the seeds of game-changing innovation requires investing the time to take a deep look at where our businesses and business models are vulnerable to disruption. To do this, we did a thought experiment exploring the question, "What is the worst headline you could wake up to tomorrow?"
It's an eye-opening exercise. But, once you find those seeds of truly disruptive innovations, what do we do next? How do we develop our ideas to shape the future?
To really answer that original question of "Now what?", Grant shared different ways of thinking, relating it to the real world and a fun exercise to spark deeper conversation and collaboration.
"In order to do something extraordinary moving forward, we must think of it not as a cookie-cutter solution that's been applied to us. We have to think of it more as a bespoke, handmade, handcrafted artisan, newly created one-of-a-kind solution that is made just for you."
– Grant Wood
A somewhat controversial, but key takeaway from this discussion, when it comes to innovation, "Quick wins are a losing strategy." Focusing on quick wins to show progress can be an indicator that you've already failed. To be a truly innovative leader, instead, you must do these 7 things:
Set audacious goals – no cookie-cutter solutions.
Understand the true role of a CEO.
Use future thinking – imagine your company 100 years from now.
Think in terms of micro advantages – traditional competitive advantages are obsolete.
Consider what is hard vs what we think is hard.
Every company is a software company – you don't just do one thing. What else do you do?
Follow the 10X rule.
The key takeaways?
Nobody has a competitive advantage. The question to focus on now is, "What are we doing to incrementally improve everywhere?"
Culture matters and leadership is vital. A company's CEO is key to unlocking the cross-pollination of innovative ideas across the organization.
Innovation is an act of risk-taking. You can't follow a path someone else has laid out for you, instead, you must create your own roadmap. It's about moving away from doing what we have done for the last 100 years to what we will do for the next 100 years. When innovating, if you want to get away from status quo solutions, a great question to ask is, "What if we didn't care about what the others care about?"
"These sessions have reminded me that technology is not the innovator and technology is not the disruption. In fact, we might just be an enabler, and frankly a very small piece of it. Innovation is actually the anti-disruption. The breakout sessions and collaborations have been so much fun and thought-provoking."

– Jeff Bilbrey
Grant wisely advised us as innovators to "Use your understanding of the world around you, systems, future possibilities, as a platform to REACH INTO THE FUTURE and DRAG IT BACK to now so that you and your team get there before anyone else." Nobody has a competitive advantage, but we don't have to just let the future happen to us; we can shape it. Exploring these ideas and doing thought experiments with industry peers can open your eyes to entirely new possibilities. What are you doing now to incrementally improve everywhere?
If you would like to keep up-to-date with future UnConference – events from TomorrowZone®, click here to join our mailing list.