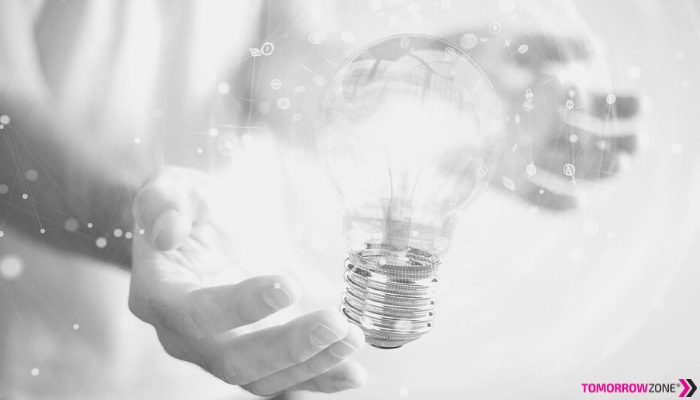 We talk a lot about disruptive innovation at TomorrowZone®, but as a community of thought leaders, we still had a lot of questions we wanted answers to:
What if we talk about what disrupts innovation and how to avoid those practices?
What causes innovation efforts to fail in organizations?
Why do we quit too soon?
On December 3, 2020, TomorrowZone kicked off the UnConference with the session, Doomed to Fail: Disruptive Innovation's Split-Brain Problem and the Curse of Innovation Anti-Patterns™ featuring Grant Wood, Founder of Knotion Labs.
A pre-event conversation in our online community spawned some thoughts around innovation:
"What continues to intrigue me is that innovation is so often considered a risk. I get it, but risks can always be mitigated. That's what we finance professionals do for a living!!"
– UnConference Participant

"I worked with someone many years back who had a saying. He was referring to people in a corporate environment and said, "there are Chameleons and Pandas… Chameleons adapt to change while Pandas go extinct." Zack makes a great point about large organizations, I think in that there can be many hurdles to innovation. A software, a strategy may not be enough without a culture that is open to change and innovation. Which I believes where Deb steps in… As a catalyst. Excited to hear Grants thoughts on ways to overcome anti-patterns."
– Jake Cutler, Founder of Biz-Fi & Ampli-Fi
Keeping with the UnConference concept, Grant started his session by throwing the stereotypical keynote framework out the window and delivered an UnKeynote, which was a fun way to see the UnConference spirit of unconventional collaboration in action.
"We often come into companies and give really formal presentations, having to structure it in a particular way. But the fascinating thing is when the keynotes are over and we're back in our office, we can just have a really frank discussion and talk about the problems that we're facing. We can quit being a polite part of the problem."
Innovation anti-patterns are easy to recognize as problematic when presented in a list.
However, in the real world, innovation disrupting behaviors come in all shapes and sizes and are disguised in everyday interactions to which you wouldn't give a second thought.
Grant illustrated his points with a "sacred cow tipping" exercise, breaking into smaller teams to think through how to identify the potential disruptors to innovate on offense instead of defense. In our experiment, we deeply examined the question: "What is the worst headline you could wake up to tomorrow?"
The talk prompted further discussion by attendees, such as leadership changes, triggering events, trust, and creating the right environment to foster innovation.
In the chat stream, some of these responses were captured, driving forward-thinking ideas to the next level:
"Trigger Events is definitely something we can identify with but have never truly considered." – Rafe Rosato
"Organizational changes!" – Alex Scepansky
"Grant just hit the point… Create the environment. Support it and stay with it before, during, and after the trigger events." – Zack Marsh
The TomorrowZone® UnConference questions everything. Through thoughtfully facilitated collaboration and out of the box thought experiments, we are able to take beginning questions and concepts and end somewhere completely different and unexpected.
"The best ideas are ideas that you cannot not finish."
– Deb Reuben
If you would like to keep up-to-date with future UnConference – like events from TomorrowZone®, click here to join our mailing list.