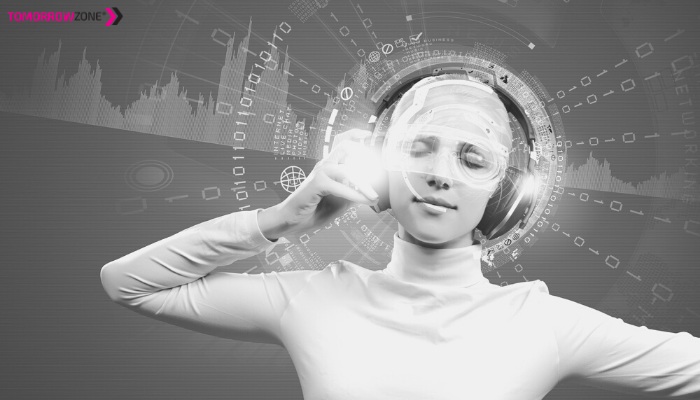 Connection and engagement can't be dictated or mandated, and it doesn't happen by accident; it's the result of a deliberate focus on fostering a deep sense of belonging, inclusion, and trust within the culture.
TomorrowZone® thought leaders know building cohesive remote teams is challenging, and in today's world it's not nice to have – it's table stakes – because the future is NOW. Thinking forward and flying in the face of status quo, we wanted to know if there was a creative solution to harness that power of connection.
What if you could blend the power of Art + Humanity + Machines to accelerate authentic connection, supercharge relationships, and build trust?
What if you could leverage AI and music to boost the culture and community within your remote team?
On Star Wars Day, May 4, 2021, Brian Mohr, Cofounder at Anthym, launched an illuminating and interactive discussion in the UnConference Spring Series: The Anthym Experience – How Might Tech + Music Accelerate Trust Within Remote Teams?
Working with organizations such as PF Chang and Conscious Capitalism, Brian is known for his ability to build cohesive teams in this rapidly accelerating virtual workplace, through his new company, Anthym.
Escape rooms and mini golf are team building activities, and although fun, lack an added depth of understanding with one another. Brian used his presentation and experiments to demonstrate that despite some of the differences that seem to be capitalizing the airwaves today, human beings share so many of the same uncommon commonalities that don't often rise to the surface.
"The shortest distance between two people is a story."
– Brian Mohr
The group reflected on moments and memories in their life via their Anthym profile and got the opportunity to be 'the storyteller' while in breakout rooms and the Anthym platform.
"I got curious really fast with a stranger, and the stranger part dissipated really quickly." – Rafe Rosato
"Small talk is hit and miss; random things to figure out how to make the conversation go smoothly. What was done here took all the hard work out of that. You provided the tools to have an in-depth conversation."
– Mike Mroszak
Here are a few takeaways:
Things deeply personal to each of us are universally common to all of us.
You can design conversations and interactions to blast past the superficial and get to know people BEYOND what you may find in their LinkedIn profile.
There is a big difference between competency-based trust (typical in business meetings) versus vulnerability-based trust (that is crucial to create psychological safety to generate fresh ideas).
"This is a group of innovators, so I felt an immediate kinship, even though I hadn't yet met anybody. Because I'm guessing everyone in this group is fairly allergic to what might be considered the most dangerous seven-word phrase in the corporate dictionary… that's the way we've always done it."
– Brian Mohr
If you would like to keep up with future UnConference – events from TomorrowZone®, click here to join our mailing list.