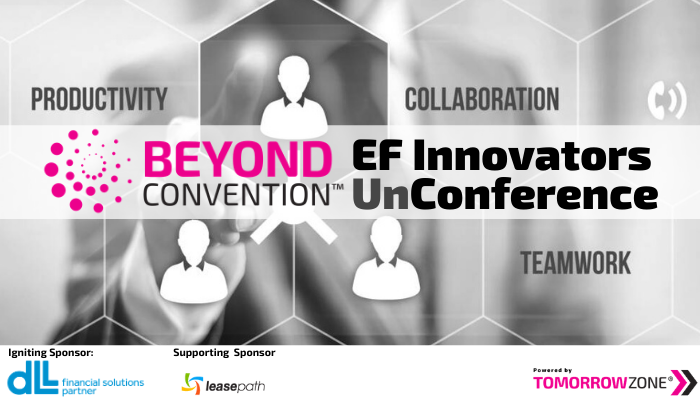 The Equipment Finance Innovator Community is coming together virtually for deep dives into technology and innovation topics specific to shaping the future of equipment finance with a goal of rapidly developing solutions to the critical challenges now facing the world.
Minnetonka, MN, November 16, 2020  – Deborah Reuben, CEO & Founder of TomorrowZone®, along with asset finance company DLL, announced today their plans to launch the Beyond Convention: EF Innovators UnConference – the first ever industry-wide community innovation challenge to meet the urgent tech needs of equipment finance lessors and lessees.
As the industry faces the significant challenges from the pandemic and subsequent economic fallout, equipment finance organizations across the world are trying to navigate through uncharted waters to refine operating processes, reopen their facilities, deliver value to customers and vendors, and embrace innovation and technology in an urgent manner.
In collaboration with DLL, co-founding sponsor of the challenge, the Beyond Convention: EF Innovators UnConference will engage forward-thinking, innovation-minded professionals and experts across the equipment finance ecosystem to contribute to ongoing discussions about technology, innovation, and the future.
The Beyond Convention: EF Innovator UnConference kicks off with a fall roundtable series on December 3rd and December 8th, which will include a community element for participants to continue engaging outside of each session.
The design focus of the series and community is to not only showcase innovation thought leadership, but to elevate it beyond that and turn ideas into tangible actions. Collectively the participants in the community and conference series will be part of the ongoing discussion and activities shaping the future and creating groundbreaking solutions to some of the most complicated issues of our time.
"Thank you to our friends and co-founders at DLL for supporting, co-designing, and collaborating on the launch of this groundbreaking platform to spark new thinking about the future of the equipment finance industry." stated Deborah Reuben, CEO and Founder of TomorrowZone® and creator of Beyond Convention. "Never before in the history of this industry has cross-industry innovation and collaboration been more important. For years there has been a lot of talk about the importance of innovation. What a thrill to bring together a diverse group of professionals who want to do something about it. We are excited to launch a community to challenge our thinking, include fresh voices, connect unlikely collaborators and ignite new ideas to shape the future."
"DLL is committed to doubling down on innovation," said Rafe Rosato, Chief Innovation Officer at DLL. "This event will push the boundaries of our innovative collaborations and we are hopeful that it will inspire new thinking in our industry. Revolutionary ideas can come from unconventional collaborations. We look forward to collaborating with others in the industry to shape the future."
To register for the series, visit www.beyondconvention.io
About TomorrowZone®
TomorrowZone's Beyond Convention: EF Innovators UnConference is the only virtual community of professionals devoted to technological innovation trends and what they mean specifically for the equipment finance sector. Our mission is to help the industry embrace innovation, adopt technology, and future proof their businesses. Our intelligence, consulting and collaboration platform inspires the next generation of ideas, processes and people to champion the nearly trillion-dollar industry.
TomorrowZone is a consulting firm devoted to inspiring both futuristic thinking and action to innovate in the equipment finance and tech sector. Learn more at www.tomorrowzone.io
About DLL
DLL is a global asset finance company for equipment and technology with a managed portfolio of more than EUR 35 billion. Founded in 1969 and headquartered in Eindhoven, the Netherlands, DLL provides financial solutions to the Agriculture, Food, Healthcare, Clean Technology, Construction, Transportation, Industrial, Office Equipment and Technology industries in more than 30 countries.  DLL partners with equipment manufacturers, dealers and distributors, as well as end-customers on a direct basis, to enable businesses to more easily access equipment, technology and software. The company also delivers insights and advice to partners and customers that drive smarter and more economical methods of use. DLL combines customer focus with deep industry knowledge to deliver sustainable solutions for the complete asset life cycle, including commercial finance, retail finance and used equipment finance. DLL is a wholly owned subsidiary of Rabobank Group. To learn more about DLL, visit www.dllgroup.com.