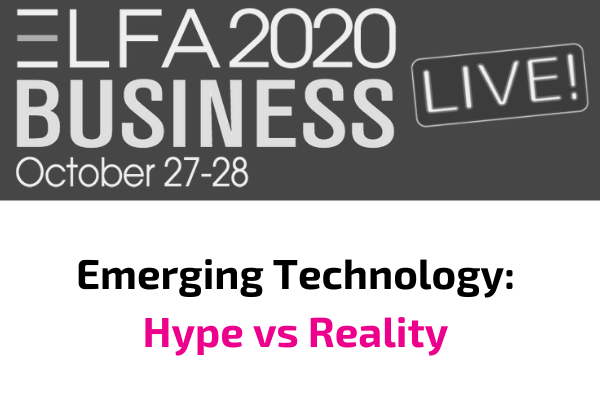 I was honored to be the moderator for the panel discussion "Emerging Technology: Hype vs Reality" at Equipment Leasing and Financing Solution's (ELFA) 2020 Business LIVE! conference in October.
This discussion included Cameron Kruger of Accenture, Jillian Munson of Innovation Finance USA, and Erich Dylus of Vedder Price P.C. Here we provided real world examples for the equipment finance industry. In this day and age, technology changes so quickly that it is sometimes hard to know what to buy and what to pass on.
In fact, this is such an important issue that I have co-written an ebook that will be released very soon on this very subject!
We outlined four key technologies to consider and some of their many applications for equipment finance companies:
Artificial Intelligence (AI) and Machine Learning
Distributed Ledger Technology (Blockchain)
Internet of Things (IoT)
Biometric Identification
We all agreed that the key to digital transformation is to evolve and experiment. Staying up to date with technology, like with my upcoming ebook, in the development of innovative business models and the customer experience.
Note: Recordings of all the breakout sessions presented at ELFA 2020 Business LIVE! are available to registered attendees on demand for replay until Jan. 22, 2021. For more information, visit http://apps.elfaonline.org/events/2020/2020buslive/.
To learn more about these different technologies and ELFA, read the full post from the ELFA here.