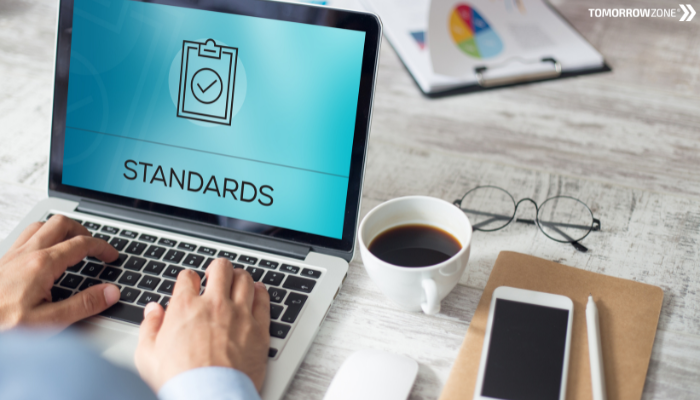 TomorrowZone® hosted The ELFA Innovation Roundtable last week where we took a deep dive into the topic of Industry Transformation facilitated by Innovation Council Chair, Deborah Reuben.
Our panelists Denis Stypulkoski, Roman Gajda, Jeff Bilbery, and John Montoya discussed the challenges in our industry and opportunities driving the discussion about standards to accelerate innovation.
Discussion centered on the benefits of industry driven standardization and how we can apply best practices, tools, and models from other industries to create standards in equipment finance. We imagined what the industry could look like if standards were in place to accelerate innovation and liquidity. The exciting part of the discussion was the shift from ideas to action. Industry peers shared ideas on how we can catalyze action in our industry.
Here are just a few of the takeaways and ideas discussed in last week's event:
STANDARDS
We are already following standards, but they are imposed on us from outside the industry not generated from inside the industry.
This innovation isn't about technology, it's about leadership.
"There's nothing worse in a digital commercial transaction than having to paper out a document from the digital vault"
How do other industries, successful in developing standards, determine who the leaders are who develop the standards (and continuously improve or adjust the standards to support innovation, growth, and progress over the long run)?
We are so tired of endless translation.
Like other industries accelerated innovation through adoption of standards, what if the equipment finance industry could accelerate innovation and create a liquidity network?
CONCERNS AND QUESTIONS
We don't want to piece together a disparate ecosystem of things that weren't meant to work together.
Concern: If we generate standards does it constrain how we do business? Who owns it? Who leads it?
POSSIBILITIES
We need to transform from PAPER FIRST to DIGITAL FIRST thinking.
What happens to our industry if the LEGAL agreement (lease/loan contract) is the OUTCOME of a digital smart contract, and not the data entry document to get the lease 'into the system'?
If ELFA helps drive the message about the benefit it could help shift mindset across the industry
We're here to create a movement where we can improve relationships between our industry partners by creating a common language of equipment leasing and finance.
SHOUT OUT
Special thanks to Bill Choi of Equipment Leasing and Finance Association and Kelly Nienaber of the Equipment Leasing and Finance Foundation and Brent Hall (representing the CLFP Foundation Board) for supporting this roundtable discussion and to Ralph Petta for taking the lead to convene industry leaders for the next level of exploration for this important topic.
Join us for the next ELFA Innovation Roundtable on August 10th from 12 – 2:30 PM CT where we will dive into the topic of ESG and what it means for Equipment Finance.