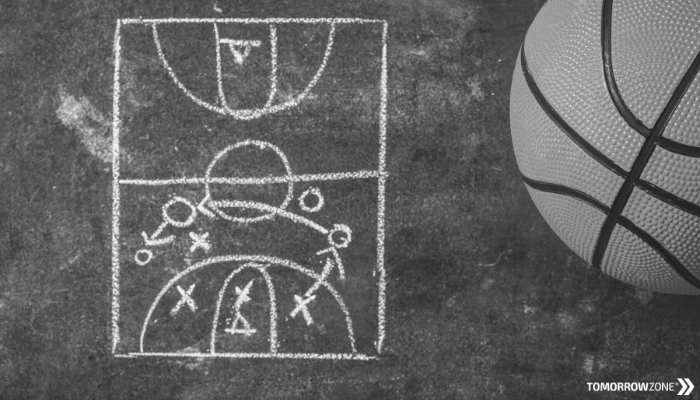 This article was originally published by MonitorDaily in April 2023.
Reprinted with permission from the author.
Team behavior is a critical enabler of successful innovation. Jennifer Martin of Key Equipment Finance spoke with Deborah Reuben about her work in youth basketball and how it has illuminated important professional parallels for her work leading teams at a professional level.
Innovation is about so much more than technology. It is critical to get the human side right if we want to move beyond "innovation theater" to execute real transformations, deliver value and improve the human experience. Do you create conditions for innovation in your team? Beyond processes, methodologies and skills, team behavior is the crucial enabler. I sat down with Jennifer Martin, CLFP, senior innovation leader at Key Equipment Finance, for a fun conversation to learn about one of her passion projects outside of work (youth basketball) and its professional parallels. The following is our interview (edited for clarity and conciseness).
How would you describe your background?
Jennifer Martin: Professionally, I've been with Key Equipment Finance for about 27 years, serving in various business and technology leadership roles. I have deep experience as both a team member and team leader.
I have four boys ranging from 16 to 24, all basketball players since they were little. My husband coached basketball, youth leagues and school teams for over 15 years. I've been president of our community youth basketball league for the past five years, and I've been a part of that program for over 10 years since my kids were in the program. It's our life; we are a basketball family.
Over the years, I've observed many team scenarios; what I see right now is incredible! I began working with these kids as first and second graders. Now high schoolers, they're playing JV and varsity basketball.
Historically, several attributes have caused us to be both the hammer and the nail in our league. Now, both boys' and girls' varsity teams are second in the state and undefeated in their classes. In addition, the boys won the WAC (Western Athletic Conference) title and are moving toward playoffs and sectionals.
This is my passion, but there are many attributes in these teams that parallel professional life in our industry and any industry.
What helped your teams progress to this point?
Martin: Starting extremely young, they've played together for a very long time. Playing above their level, being the nail often. They've gone through periods where they've lost tons of games. But we created a safe space to fail and learn the benefits of failing throughout the year. We have extremely clear and shared goals. They know what they want and work together every day to achieve that goal and the next. It's paying off today. These kids constantly push themselves. They are in game positions where, frankly, they have no business playing that opponent, but they show up. They may lose, but they learn, and they may win in some of those situations. Continuity, teamwork and coaching consistency have created a great learning atmosphere.
Every year, there's "team kryptonite" causing teams not to achieve their goal. It could be a lack of trust among the players. Poor communication. A lack of goal setting. Those "little disengagers" prevent optimal performance.
What's happening now?
Martin: This year's different. We see it in every game. The players trust one another, making them incredibly unselfish. They're not taking over a game themselves because they don't trust their teammates. Instead, they share the ball. If another player fails, they're there to pick them up. They genuinely like each other. They consistently return to their goals and know exactly what they're trying to achieve. They know their role on the team and, when it's time, how to execute that role.
It doesn't mean there haven't been mistakes. No one is perfect, but they allow for failure. There's a level of encouragement allowing them to be themselves and show up when most needed. They're surrounded by support from the community, coaches and parents. Confidently seeing their coaches as leaders, they listen, take their advice, and it gels very well.
Being in tough game situations and having to execute on trusting and listening has paid off. The team atmosphere is prevalent in every game situation; you can't miss it.
What drove this level of teamwork?
Martin: Years of failing brought them to this place. It's just inevitable mistakes along the way. There's a feeling among team members that they want everybody else to succeed as much as they succeed themselves. We don't want them playing out of fear that making mistakes gets them immediately pulled out of the game. We don't want them looking at the coach constantly, or worried other players are going to judge harshly. These are all micro-rejections that can snowball over time. Micro-rejections change player behavior.
So often over the course of this season in particular, players have a shot, they can score, they've got the easy layup, but they see that there's somebody right next to them that's got the same-colored jersey, so they dish it off to them. They're extremely unselfish. They're like, "OK, I've got a defender on me. I'm just going to dish the ball here. I don't need the two points. I'm gonna give it to this guy."
That type of unselfishness is part of their trust, understanding that even if you dish it off to that guy and he fails, it's OK. It takes years to get to that point. Some teams never get there. Instead, players feel they must take over, save the team, save the game and be in control. That's kryptonite to any team.
In our teams, there's no drama; nothing stops them from being their full selves and showing up for one another focused on the goal in front of them. Over many years of play, it's become natural to them. They also live in a small community where the parents get along, so there's safety. After years of mistakes, as a team, they've learned what works, and they're executing that.
How does basketball teamwork apply to equipment finance innovation?
Martin: It comes right down to the humans within your organization. I don't think it matters if you're talking about a basketball team or a team within your organization; all the concepts are the same. Build an environment where goals are clear and people are accountable, where they feel safe to fail and leaders join in those behaviors so that employees feel accepted. This enables the team to generate ideas, some of which fall flat and others which will be wildly successful. You'll gain velocity over time. You'll gain an engaged workforce that understands they're part of the success or failure of the organization. They'll show up in the best way possible. It doesn't mean it's perfect and that mistakes aren't made, but you've created an environment where you can now innovate the innovation process. You've created a space where everyone is allowed to be vulnerable and say, "Wow, that didn't work. We need to do something different."
As a leader within my organization, I'm constantly asking, "What can I do better? What can I learn from this situation or project to apply to the next one?" The basketball teams I've worked with have done this for many years, and they're showing up in the best way possible now. I think our industry is learning how to get to a place where they can gain that velocity. It really is the humans and the competencies that we've been talking about that put us in the best position to continuously execute on ideas. I see the obvious parallels between basketball and professional life every single day.
How can leaders model innovative behaviors?
Martin: Admitting we're not sure how to do 'now' things is powerful. It takes vulnerability to say we've never been in this place before. As leaders, all of us have some learning and growing to do. When we show up as leaders who don't have all the answers, it allows employees to not have all the answers. Then you can engage with questions, saying, "I don't know exactly how to do this, but we need these five to eight competencies. How do we get there collectively? What do we need to innovate to develop into good innovators?" Then we can start the journey of learning about one another and what we need to do to create the healthiest environment to generate innovation velocity. That's what this basketball program has done over the years, and we could easily pivot that into our own leaders and teams to do exactly the same.
How can leaders shape their tomorrow?
Martin: Before you even show up with the team, step back and reflect on how you lead and where you might be able to change and grow, because it starts with us, it starts with the leader.
Gain honest perspective from your team. This may not come naturally if they don't trust you yet. It takes time and many conversations. Be vocal about the fact that you're not perfect, that you don't have the answers and here are the things I'm going to work on for my leadership competencies and my style. And ask, "Am I even working on the right things?" Maybe there's something that you haven't even pinpointed within yourself that your team thinks might be good to work on. Stepping back to reflect and getting into that vulnerable place will put you in such a strong position for the future.
Jennifer Martin, CLFP, is a senior leader of sales enablement and strategic support at Key Equipment Finance.
Deborah Reuben, CLFP, is CEO and founder of TomorrowZone, a technology strategy consulting firm bringing forward-thinking insights and original ideas to help companies gain efficiencies and design roadmaps for the future. She holds many equipment finance industry leadership positions and authored The Certified Lease & Finance Professionals' Handbook sixth to ninth editions. Learn more at tomorrowzone.io.