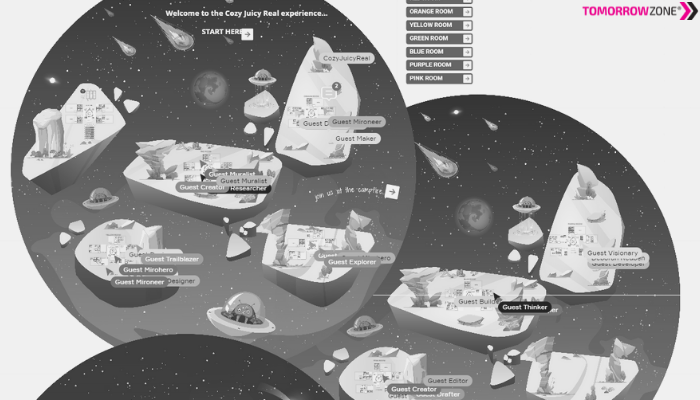 As a part of our year-long experiment in virtual collaboration, on December 8, 2020, TomorrowZone® held the second UnConference session, Forget the Traditional Roundtable, Let's Make it an Interactive Game featuring Jed & Sophia Lazar, Co-founders and Inventors of Cozy Juicy Real.
It's been a while since teams could rely on the benefits of frequent in-person interactions that build trust, enhance creativity, and accelerate problem-solving. How do you foster creativity and drum up new ideas when remote working and virtual meetings start to feel like a drag?
Innovation requires asking new questions:
How do you meet (and retain!) new and interesting people?
How do you make quality connections with other professionals?
How do you deepen your existing relationships in a digital environment?
Jed & Sophia demonstrated the concept of virtual connection and collaboration by taking the round table discussion to a whole new level. With gamification, the attendees got to play the Cozy Juice Real game, developed to interact, learn and spark conversations with other players, virtually.
"What an amazing event. It was an honor to not only hear about the innovation journey from game designers, Jed Lazar and Sophia Lazar of Cozy Juicy Real, but we learned about the power of connected teams. Not just hearing about their experience but experiencing it for ourselves – TOGETHER."
– UnConference attendee
The final report? After fun gameplay and discussion, the breakout teams had final takeaways to answer the burning question of the day, "How do you think we could cultivate more meaningful and trusting relationships in the virtual world?"
Building comfort and trust
More time, space and structure to connect
Learning about others in indirect ways, like this
Create safe spaces for people to share
Normalizing what makes people unique
Humanizing our companies by getting "real"
Showing from the top down that this is a priority
Honesty
Starting Small
"It was so fun to get to know people in a unique way, in a 100% virtual environment. It IS possible to feel connected in the digital world."
– UnConference attendee

"In my room, there were a couple people I had never met before. If we were at a cocktail reception at a tradeshow event, we would never have this conversation. We would have said hi, but I don't know if we would have gone beyond that. It was really cool to playfully get to know each other and explore our thinking in this new way."
– Deb Reuben

"Your game challenged my thinking. I usually leave rooms & workshops exhausted and bored. Your game and these questions got us to dig in, with vulnerability expressed, and now we're friends for life."
– UnConference attendee
If you would like to keep up to date with future UnConference – like events from TomorrowZone, click here to join our mailing list.