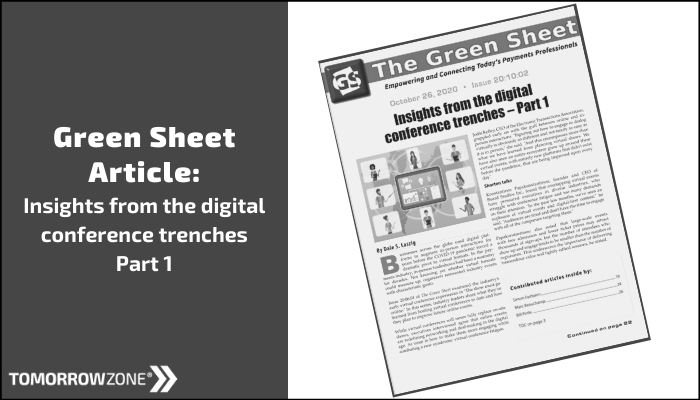 It was my honor to be recently interviewed about my experience with digital conferences for The Green Sheet Online Edition: Issue 20:10:02. In this issue, The Green Sheet interviewed several professionals to gather advice about fighting virtual conference fatigue. Fortunately, I was already comfortable with the digital world before the pandemic hit. Unfortunately, that wasn't the case for everybody, and the shift to virtual events has been a complicated process for many.
Instead of getting bogged down in negatives, I've chosen to look at the bright side. Many of my speaking engagements planned for 2020 were canceled. Still, I've been able to attend other events I would have never been able to participate in before because they're now being offered digitally. Digital events provide new ways to enable radical inclusion, access, and choice, allowing people to make new connections more efficiently than when traveling to events.
With the move to more digital events, I've also noticed another benefit. Virtual events provide an opportunity for laser-focused thinking and strategy. When I attend a digital event, I can review the agenda to prioritize topics and then selectively consume the information asynchronously and on-demand when my schedule allows it. Furthermore, when I design digital events, I can forget tradition and shift to digital-first thinking to leverage digital capabilities for a new and reimagined experience.
To read more about making the most of digital conferences and events, read the full Green Sheet article here.