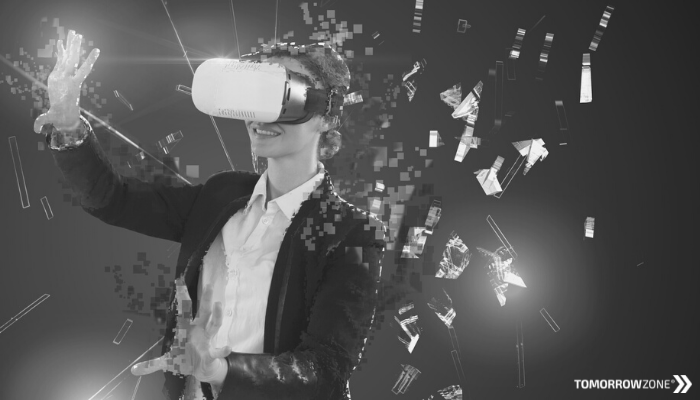 What if we take the limits off digital experience and rethink how we interact with customers, partners, and employees?
Can we leverage virtual reality technology to create an entirely new experience? And what does it take to do that now?
These were the questions top of mind for the TomorrowZone community, so we invited Camille Donegan, Simon Jeppensen and Christina Schiller to lead a discussion June 10, 2021:
"Real Virtual Reality Use Cases in Equipment Finance"
Camille discovered the power of virtual reality in 2015, and is an award-winning producer, speaker and curator of virtual reality experiences. Simon is the New Business Development Manager OE at DLL and facilitates and integrates innovation. Christina is an Innovation Program Manager also at DLL, responsible for driving innovation, idea generation and implementation.
Camille shared about the trends in VR and the DLL team shared how they are experimenting with VR to deliver new educational experiences for their dealer customers in Sweden.
Advantages for VR Training:
Makes training more innovative and engaging
Enables experiences that are impossible through any other digital medium
Teaches through DOING, rather than theoretical concepts
Offers a safe practice space that encourages users to learn from their mistakes
Encourages employees to explore at their own pace and in their own style
"There's a lot of advantages to using VR for training. It's very innovative and engaging, and we know from neuroscience that it's lighting up the novelty part of your brain. If you light up the novelty part of your brain, you're much more open to taking in new information." – Camille Donegan
The attendees got to not only experience onboarding at DLL via VR, but they also further explored the topic in breakout rooms, answering the questions:
What uses can you see for VR or AR in the equipment finance space?
Where do you think things are going for VR and what's possible?
What have you seen outside the industry that would be interesting for the EF industry?
"This could save a sales rep from having to fly to who knows where – by providing training and orientation for surgical equipment." – Mike McDonald
"As a vendor, we could onboard new clients and get them acquainted with who we are, what our office looks like, and introduce them to people." – Mike Mroszak
"Checking in with customers every month doesn't scale. This seems just as valuable." – Jill Aden
"This would be valuable for the salesperson. If it were responsive in training, they could learn from different perspectives, different roles, and also different characteristics to understand the needs of their customer better." – Gregg Cherne
Tools to check out:
Reality Check: How Immersive Technologies Can Transform Your Business by Jeremy Dalton
TinkerCad
GravitySketch.com
Unrealengine.com
Unity.com
Some key takeaways:
Start with bite-sized content – people get tired faster in VR.
Text isn't ideal for mobile VR.
Don't force an AR or VR solution to a use case that could be fulfilled by the 2D video or face-to-face.
The cardboard viewer is the gateway drug to VR.
Latency, frame rate, design of content can mitigate against cyber motion sickness.
If you would like to keep up-to-date with future UnConference events from TomorrowZone, click here to join our mailing list.