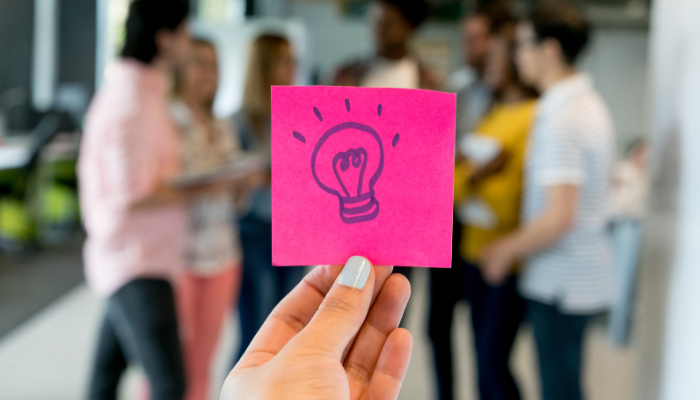 This article was originally published by MonitorDaily in October 2023.
Reprinted with permission from the author.
Change is a necessary component of every company's strategy today, but how can you ensure the transformation initiatives you take on achieve the desired outcomes? Deborah Rueben sits down with Sobat Khawaja and Brooke Foster of Provectus Consulting to learn more about how to thrive through transformation.
The phrase, "the only constant in life is change" seems cliché, but it's also true. Whether planned or not, change can be overwhelming, especially in equipment finance teams working on digital transformation initiatives to boost profitability and avoid being left behind. Sadly, 70% of transformative initiatives fail. To be in the 30% that succeed, we need to master the human side of transformational change. But how?
To dive into this, I sat down with Sobat Khawaja and Brooke Foster, change management experts and partners at Provectus Consulting, a firm specializing in innovative change management. They are pioneering a unique interdisciplinary approach to helping companies thrive through transformations in a rapidly changing business environment. The following is our interview condensed and rephrased for conciseness.
Deb Reuben: Please share your background and the journey that led to what you do today.
Sobat Khawaja: I'm Sobat, CEO of Provectus Consulting. I spent 10 years at Accenture before independent contracting. Throughout my career, I noticed a gap in change management — great strategies often failed to engage people and get their attention amid today's information overload.
Serendipitously, I started work with an edtech company diving into user experience (UX) design. Realizing design is the missing link in change management, I launched Provectus Consulting. We adopted design thinking, empathy mapping and user-centric principles, involving visual designers in the change strategy conversation. This sparked my passion for "Change by Design." Since 2016, this amazing fusion of creativity, design and best practices from change management makes the end product and client experience unbeatable.
Reuben: How do you define your change management philosophy?
Brooke Foster: Change management is the structured approach to prepare people for any company transition, whether it's a small system upgrade or a major pivot like a merger. It ensures communication, readiness and a smooth shift from the current state to the desired future state. Essentially, it's all about the people — changing their behaviors, work habits and more.
My philosophy, shaped by working with clients, is clear: it's either invest in change management upfront or pay for crisis management later. Neglecting the people side leads to rework, talent loss and chaos. It's a choice between proactively managing change or dealing with the costly aftermath. Change manager or crisis manager, it's your choice.
Reuben: How are you challenging traditional change management?
Foster: Traditional change methods, though valuable, are insufficient in today's fast-paced, digital landscape. They lack the power needed to compete in our attention economy. Traditional approaches are template based, static and linear. They don't consider user experience. With constant smartphone use, we are competing against people who are experts at grabbing and holding attention.
Our approach combines iterative design thinking and visual design, making the message easily digestible and quickly adoptable by end-users. In just seconds, they understand the message and what needs to be done. This approach revolutionizes how we navigate change.
Khawaja: Our approach is radically different as it's interdisciplinary, not relying solely on a change management strategist. When we engage clients at Provectus, we assemble a team led by a consultant but enriched by experts in visual design and copywriting.
Our aim is to transform complex content into bite-sized, engaging messages that meet the seven-second rule for communication. Instead of the 30-to-40-page PowerPoint deck that causes everyone's eyes to glaze over, let's transform your communication, your training plan into a Nike ad.
Whether it's a training program or a communication piece, we ensure it holds the user's attention because without that, it's a waste of time and money. We challenge the traditional approach by combining diverse skill sets to enhance our client offerings, unlike other firms that often lack this creative dimension.
Reuben: What is learning agility?
Khawaja: Learning agility is crucial in today's fast-paced world. Organizations aiming for competitiveness and success must embed learning agility in their culture. This means fostering a desire for intellectual curiosity, rapid upskilling and adaptability among employees.
Change management traditionally has been all about adoption. But now, it's actually adoption plus the ability to adapt. Inculcating digital readiness and learning agility is essential to thrive in today's economy.
To build this learning agility and curiosity, it's vital to create content that people actually would like to engage with. Adult learning is very different from childhood learning. It can be challenging to keep adults focused on acquiring new skills.
We ensure that the end result isn't just a stack of 30 slides people may not want to engage with. We integrate effective and enjoyable learning methods into change management. Learning agility is vital.
Reuben: How are you incorporating design thinking into change management?
Khawaja: In the realm of change management, the traditional process tends to be linear and siloed, as Brooke mentioned. At Provectus, we incorporate design thinking through workshops that kickstart engagements. In these workshops, we gather key users and collaborate on problem-solving with various prompts. It's an iterative, engaging and creative process that encourages collaboration and innovation.
We help people understand that something doesn't have to be perfect for us to look at it and improve upon it. People often fear presenting unfinished work because they're accustomed to waiting until it's perfect. This hesitation causes us to miss valuable early feedback that could greatly improve our development and collaboration efforts.
Unlike the typical deadline-driven, template- filling approach, design thinking inspires fresh thinking and rich ideas. We've witnessed the excitement it brings to clients, promoting diverse thought and early feedback. The essence of design thinking lies in iterative prototyping, peer collaboration and the pursuit of innovative solutions.
What's worse than a crisis is apathy and malaise. By engaging people early and involving them in a safe space, we avoid that by tapping into and inspiring their creativity.
Foster: We infuse design thinking principles and methodology into our workshops. Our main objective is to achieve outcomes and gather necessary data, but more importantly, we aim to create a transformative experience. We want participants to leave with a shifted mindset and a strong psychological buy-in for the change journey.
Our workshops go beyond data collection; they are designed to be impactful experiences. We've consistently seen clients, even skeptics, leave with a newfound understanding and enthusiasm. Even for detractors, the lightbulb goes on and they leave saying, "I get it. This is important." These workshops are not just about input and output but about crafting meaningful experiences for our clients.
Reuben: How are you helping companies in other industries?
Foster: The exponential pace of change is a universal challenge across industries. Every client we talk to shares this concern. Recently, we engaged with a company undergoing significant internal changes. Their employees struggled to grasp various priorities and understand how ESG related to their daily work. It's akin to Maslow's hierarchy of needs, determining what's important. We help people understand, "What do I focus on? What's important?" This underscores the crucial role of change management, especially in crafting clear and digestible messaging.
One tangible way we assist companies is by focusing on the strategic narrative. In this era of rapid change, it's crucial to engage people both emotionally and intellectually. Sobat and I achieve this by crafting compelling stories with our clients. This strategic narrative communicates the importance of change, its alignment with the broader vision and ensures clear, concise messaging. We collaborate with visual designers, copywriters and cinematographers to transform it into a visually engaging narrative. This approach has been highly effective and enjoyable for our clients.
Another important area we've been assisting clients with is establishing their communications and change architecture. Many companies vary in their change function's maturity. Some lack a robust change function altogether. For these clients, we help set up a structured change and communications framework. This ensures effective communication throughout the organization, from engaging executives to defining communication channels. It's a practical and impactful step we take with our clients.
Reuben: What can professionals do today to shape a better tomorrow?
Foster: Prioritize self-awareness and personal growth. In the fast-paced world we live in, it's easy to focus on immediate challenges, but it's crucial for leaders to understand their blind spots and weaknesses. Having a support structure that holds you accountable is vital. We've all experienced both good and bad leadership, and as leaders, it's our responsibility to continually improve, ensuring our weaknesses don't negatively impact our teams and organizations. So, seek advice and remain humble in your pursuit of self-awareness and growth.
Khawaja: One valuable piece of advice, which I remind myself of as well, is to listen more. To truly make a positive impact on your team or organization, you must understand people's emotions and concerns. Understand their fears and address them. You can't do that until you listen. Listening is a simple yet overlooked leadership skill. As a leader, there's so much talking and messaging that we need to get across that we forget to sometimes listen.
ABOUT THE AUTHOR: Deborah Reuben, CLFP, is CEO and founder of TomorrowZone, an innovative consulting firm bringing forward-thinking insights and original ideas to help companies adopt digital, gain efficiencies and design roadmaps for the future. She holds many industry leadership positions and authored The Certified Lease & Finance Professionals' Handbook 6th-9th editions. Learn more at TomorrowZone.io.
Sobat Khawaja is the founder and CEO of Provectus Consulting, a boutique change management consultancy. She has nearly 15 years of big four consulting experience, specializing in driving large-scale transformational change across all facets of the operational and functional areas of her client's businesses. More info at Provectus-Consulting. com.
Brooke Foster is managing director with Provectus Consulting. Her diverse background includes big four consulting, industry experience and proven track record of driving global change and transformation across various industries and Fortune 500 companies.