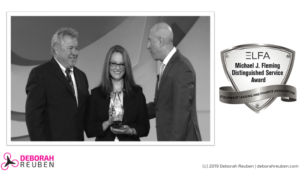 The Equipment Leasing & Finance Association (ELFA) represents financial service companies and manufacturers in the industry. As a trade association, they provide their members with a platform and forum to promote, advocate, and build advancements for equipment leasing & finance.
Each year, ELFA designates one of its members for the Michael J. Fleming Distinguished Service Award, whom they feel has made significant contributions to both the Equipment Leasing and Finance Association and the industry as a whole.
It was a humbling honor to receive the 2018 Michael J. Fleming Distinguished Service Award during a ceremony at the 57th ELFA Annual Convention in Phoenix, Arizona, last October.
Ralph Petta, ELFA President and CEO, stated "Deb's dedicated volunteer spirit and leadership, especially in the areas of technology and innovation, have had a tremendous impact on our membership and the equipment finance industry. We are thrilled to present her with the Michael J. Fleming Distinguished Service Award in recognition of her outstanding contributions."
My gratitude to ELFA for the opportunity to serve. As Chair of the ELFA Technology Innovation Work Group, I intend to continue contributing to the industry forward-thinking insights and original ideas to inspire new thinking about the future of technology innovation and what it means for this industry.
News of this award was originally published on ELFA's website.
The following is the transcript of my remarks during the award ceremony at the ELFA Annual Convention.
WOW! Thank you. It is a humbling honor to be recognized in this way.
For many years and through a wide variety of activities, I have had the joy of collaborating with a multitude of brilliant people across the industry. People like Andrew Cotter of Somerset Capital and the entire Operations and Technology committee, Lori Frasier of Key Equipment Finance and the whole Women's Council, Heather Staverman and the team at ELFA and so many more… too many to name here.
It is so energizing to work with industry leaders who desire to imagine the art of the possible and focus on what's next. I am grateful for the memories, laughter, connections, relationships, and doors of opportunity opened through each volunteer experience. Collaborating with industry peers to bring forward-thinking ideas to life for this association has been a blast.
Thank you to ELFA for making this possible and thank you to all of the remarkable members of this organization who make active participation a fantastic experience. I highly recommend getting involved in industry initiatives to make awesome happen. Thank you so much.