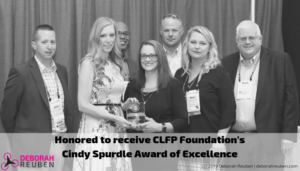 The Certified Lease & Finance Professional (CLFP) Foundation is comprised of over 700 certified leasing and finance professionals from around the world. As the leading credential for industry specialists, the CLFP sets industry standards in professional conduct and technical expertise.
Each year, the CLFP awards one recipient for the Cindy Spurdle Award of Excellence. This award is given to the CLFP member who, in their opinion, has contributed the most to the industry while representing the CLFP ideals.
It was my incredible honor to be designated as the recipient of the 2018 Cindy Spurdle Award of Excellence. The award was presented by Reid Raykovich, Executive Director of the CLFP, who stated, "Deb took on the huge task of rewriting The Certified Lease & Finance Professionals' Handbook and did it within the timeframe, budget and produced a phenomenal piece of work. The Board of Directors and I couldn't be more pleased with her tenacity and unique way of incorporating the knowledge of over forty Subject Matter Experts and translating it into one fluid Handbook."
Although a tremendously intense undertaking, my work on the CLFP handbook would not have been possible without the contribution of brilliant subject matter experts who generously shared their wisdom, efforts, experience and dedication to advancing CLFP and the equipment leasing and finance industry. It was such a pleasure to collaborate with Reid Raykovich, the CLFP Foundation Board, my editor, Mike Dickinson, and key industry subject matter experts to bring my transformative vision for this product to life. I extend my deepest gratitude to all of my colleagues who continue to progress the equipment leasing and finance industry forward.
Read more detail of this award, published in the CLFP Foundation's press release.