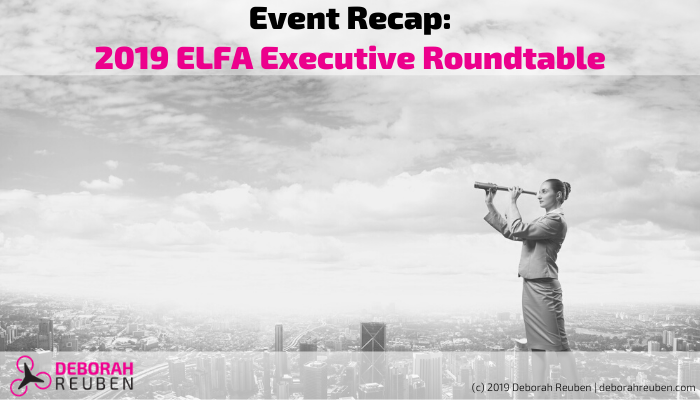 "Are there other perspectives we could consider?"
This was the thought-provoking question posed by ELFA chairman, Jud Snyder in his opening remarks for the 2019 ELFA Executive Roundtable in Naples, FL. It's not always about finding answers. More importantly, are we asking new questions?
Here are here are 5 of my takeaways from the event…
Disruption: In light of economic, political, and technological trends, what new perspectives might we consider for the future? Going into the last economic crisis, what would we have done differently, had we known what would happen? How can we learn from that and prepare better today?
Innovation: It's not about innovation for innovation's sake. We need to be aware of emerging technologies, the problems to solve, and the desired outcomes before considering a new technology. As I mentioned in my remarks, "It's never only about technology." Blockchain, Artificial Intelligence, Internet of Things, and other emerging technologies are enabling game-changing business model innovations. Are we paying attention? How can we change our thinking, to innovate and remain relevant for the future?
Modern Customer Expectations: This table discussion was fascinating. Day-to-day consumer experiences are becoming the desired expectation for business-to-business digital interactions. Commercial equipment finance customers (both end-users and vendors) are looking for certainty, speed, and convenience. To deliver that, lessors are looking for flexibility in technology to enable them to adapt and meet customer demands, providing the ability to change with agility. My favorite quote from the event came from one of the attendees, who shared, "Organizations have to take risks to innovate customer experience, and we risk irrelevance if we don't."
Mindset: We are in control of our mindset. Awareness of our thinking is the first step to intentionally changing thought patterns to radically improve performance. It's important to think about how you think.
Unconscious Bias: Learning about this common human condition was eye opening. It's a good reminder to raise awareness and understand what you can do when you encounter unconscious bias in yourself or in situations with others.
During the roundtable conversation, I was honored to share the Innovation Technology Working Group update, and the results of the recently released blockchain report. As always, it was great to reconnect with industry colleagues, and as a Minnesotan, it was awesome to experience warm, sunny Naples for a couple of days!