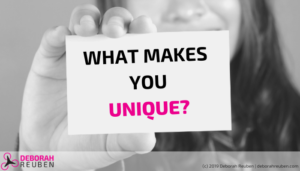 7 lessons learned about personal branding
Personal branding is a continual evolution. One that remains perpetually incomplete.
As I prepared to speak at the 2019 ELFA Women's Leadership Forum regarding this topic, I spent time reflecting on my own journey and lessons learned while developing my personal brand.
Here's my story, I hope it inspires you in your career journey.
Lesson 1: Don't let others define you
As a kindergartner, my teacher told my mother that I couldn't learn, because I colored outside of the lines. Fortunately for me, my mother didn't allow that teacher's assessment to define me. Metaphorically, I've colored outside of the lines ever since.
One of the biggest personal branding lessons I've learned along the way is:
"Don't let others define you."
What some may see as a weakness, may be considered a great strength to the right audience.
Lesson 2: Intentional reinvention is less painful than forced reinvention
As a teenager, my life plan was quite simple:
Get a scholarship to college. Go to school. Become a gymnastic coach and own a gym.
However, in gymnastics, and life in general, you don't always stick the landing. Fortunately, this taught me the next big lesson in personal branding and reinvention.
I learned that personal branding and reinvention is way more awesome when it's intentional, rather than forced. In my situation, I was forced to reinvent myself. It was a painful process – especially since I had no tools or counsel to help me through it.
Continuing to refine your brand is a conscious choice which requires attention and action. It can be dangerous to assume that what made you successful in the past will work into the future. The world changes quickly, especially in the technology realm.
I've learned to quickly go through cycles of learning, unlearning, and re-learning.
Lesson 3: Personal brand continues to evolve over time
My entrance into the financial services industry and technology was through a job in banking. Meanwhile, I was also attending to school to become a minister, preparing to serve overseas. Eventually, this lead me to part with my banking job and serve in Ukraine, Russia, and Mongolia. At the time, I wasn't sure if I'd ever come back.
Ultimately, I did decide to return to the US. Upon my arrival, Wells Fargo Equipment Finance (Norwest at the time) reached out and invited me to join their team as their first application developer. This was my entrance into the Equipment Leasing and Finance industry. Through this role, I learned the business end-to-end, to design and build a variety of automated processes.
As part of the startup team for TCF Equipment Finance, I played a very strategic role: always between business and technology.
After a while, I went into consulting for a couple years and enjoyed being on my own until I was recruited to be a senior product manager for a software company. This new position allowed me to see the commercial leasing and lending world from a new lens.
Each experience provided new perspectives on people, business, and technology.
In 2013, ready for a change once again, I knew I needed to fulfill my drive to become a business owner. So, I created a business plan and carried out a graceful exit of my position. When the door opened for me to land my first client, I leaped. Now I'm in my sixth year of business.
Scary? Yes. However, the opportunities that have opened to me are exponentially greater than anything that would have happened being buried within a large organization. My brand continues to evolve as I learn and gain new experiences, expanding my reach.
Lesson 4: Sometimes you need help developing clarity
Although it's easy to help others identify things, it can become difficult to have the same insight looking inward. Steve Woodruff summed this up perfectly by stating "It's hard to see the label of the jar that you're in."
Sometimes you need help developing clarity.
A lot of books, tools, and counsel from a variety of people have helped me to gain clarity and new perspective. The following three assessments significantly contributed to my personal development:
While each is valuable on its own, the three together provide valuable insights to see yourself across multiple dimensions. This input was essential for choosing my actions and developing my personal brand.
Lesson 5: Choose to continually learn and reinvent yourself for relevance
The world is changing at an accelerating pace. How do you remain relevant?
You don't need to know all the details before you start, but you can start.
What works for me is to start by following my curiosity, letting passion develop as I progress. Early on, I didn't know that I was passionate about continually diving into technology. However, I followed my curiosity, which enabled me to develop a passion for constant learning and experimentation with ever-evolving technologies. With the pace of technology change today, there is always something to leave behind and something new to learn.
Lesson 6: Choose to stretch your comfort zone often
At times, I completely step out of my comfort zone. More often, I just stretch to enlarge its scope.
Every time I do this, something awesome happens. For example, I am not very comfortable mingling in gatherings where I don't know anyone. Even so, I stepped out and went to a Women Leading in Technology happy hour a couple years ago.
Although I didn't know anyone at the event, I met a handful of bright women with whom I have stayed in contact ever since. They've inspired me, opened new doors, and I've inspired them to try new things in their own line of work.
These connections have led to more connections, significantly impacting my business over the past two years. This never would have happened if I would've opted to stay home that evening instead of stretching my comfort zone one more time.
Similarly, I stepped way out of my comfort zone to attend the Singularity University Exponential Finance event in New York a few years ago. No one from equipment finance was attending the event, but I learned concepts that changed the way I think. I made a friend that has been a continual encouragement to me, and we connect and share ideas often.
Lesson 7: Choose to own your story and have the boldness to be yourself.
I have found that I'm most effective when I'm myself.
In the past, I thought people would look down on me because I have a different backstory than most. However, being different can be a strength.
When I was going through a website rebrand, I worked with a creative team that took me through their signature "Brand Bounce Boot Camp". Part of the exercise included a deep dive into a facilitated SWOT analysis. When I saw my non-traditional background as a weakness, they turned it around. I'll never forget the statement, "Superheroes never have a traditional backstory."
It's because of my backstory that I think so differently. It gives me a different perspective and adds value. Choose to own your story.
In short: the past doesn't define our future. We can choose to create our future and take the action necessary to make it happen.
Developing your personal brand is an ongoing activity and you can choose to reinvent yourself at any time.
For information on personal branding and other helpful resources, see my resources page.