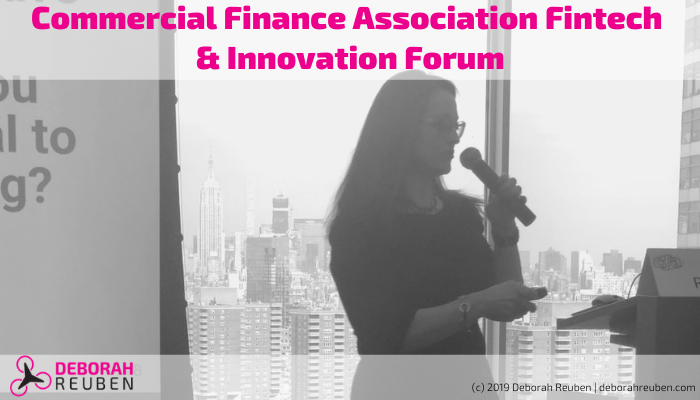 Often, we're so engrossed in our day-to-day jobs that we don't have time to learn about exponential technology advances or focus on future possibilities.
However, the ability to survive "in the dark" on technology will not be possible for long: the advances and trends caused by new technologies create potential impacts for customers, employees, companies, and the Finance industry. Everyone needs to be aware of these advances, so that they can make educated decisions with the long-term future in mind.
With this awareness, teams can implement advancements in technology to help redefine business models, operational processes, and customer experience.
In March 2019, I was honored to give the keynote presentation at the Commercial Finance Association's Fintech & Innovation Forum in New York. The Forum provides an opportunity for commercial finance professionals to step away from the daily grind — gaining new insights into what the industry may look like in the next 3-5 years.
Considering the accelerated pace of technology change, possessing the knowledge of which innovations may disrupt your market (or offer lucrative opportunities) is key to success.
The forum included panel discussions which explored fintech and the future of finance, featuring speakers with varied perspectives from InterNex Capital, Ablsoft, Jones Day, Flowcast, NepFin, Finvoice, TD Bank, and Regions. In my keynote, I discussed exponential technology and forces of change, why technology is moving so fast, and tips for how to stay on top of trends without being overwhelmed.
Following my keynote presentation, I moderated a panel discussion on fintech and the future of the commercial finance industry, alongside three brilliant women who are innovating in the commercial finance space. To engage the audience, I facilitated an interactive workshop to disruptive innovation and possibilities for the industry.
Here are my takeaways from the day.
How is our industry protected from digital disruption, and what are its vulnerabilities?
The consensus was that the industry is not immune to digital disruption. Rather, most felt the industry was exposed to digital disruption for several reasons:
We're not using data as well as we should.
We 'can't keep doing things the same old way and expect to keep up with the competition.
Commercial customer expectations are increasing because of consumer experiences.
Which of the trends do you see as having the potential to impact secured lending?
It's crucial that we leverage data more efficiently for improvements to internal processes and the customer experience.
Today's customers expect everything instantly, which is challenging to deliver when you're dealing with manual processes and disconnected systems/data sources.
Data integration is another hurdle to overcome. Due to the data-intensive nature of this lending business, we must integrate with data sources to streamline operations and better serve clients.
Cloud adoption is another key trend that will enable secured lenders to leverage the latest technology to advance innovation initiatives faster.
What are the most significant areas of friction in the secured lending customer experience? Where are the speed bumps in the process?
Aggregating data from disparate sources to speed up internal processes and streamline the experience for the customer.
Transferring data: sharing information between the customer and finance provider.
Speed: the customer wants information instantly, but we have cumbersome processes.
These challenges were summed up perfectly by one of the afternoon's panelists:
"Core systems suck."
In regard to the current state of core systems, there seemed to be shared feeling of dissatisfaction. The audience's personal challenges with data transfer and integration points to the need for a better core system to serve this market.
Moving beyond the discussion of current challenges, we were discussing "ideation mode" when I posed the following questions to the audience:
What are your favorite apps, and what about that customer experience do you appreciate?
Venmo is a favorite for its ability to instantly make payments to anyone, regardless of their banking institution.
Apps that have incentives, such as Uber, Door Dash, etc. They entice repeated usage with rewards and discounts.
Navigation apps, like Waze, which give directions and predict how long it will take to get to a destination.
Putting these ideas into action, we did some question storming to come up with innovative ideas for enhancing the customer experience for this industry.
How might an app combine what you appreciate about your favorite customer experience, with a new solution to address friction in the secured lending experience?
What if finance was more like Mint? Perhaps it could be possible to automatically aggregate finance data for the customer, with integration to their systems — so we could access data and provide financing faster.
What if we use data similar to Waze, to predict insights and make better decisions for financial transactions?
Throughout the CFA Fintech Forum, the audience was engaged and very interested in technology trends and forces of change. Together, we shared fantastic interactions while sharing ideas about the future. It's valuable to periodically take time to think about the future, open your mind to possibilities, and generate new ideas for action you can take today.
If you are interested in a catalyst for this type of conversation with your team or group event, check out the TomorrowZone™ framework to lead a similar discussion with our team. If you would like a professionally facilitated workshop for your event, click here for more information.