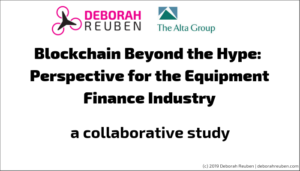 Are you still trying to figure out what blockchain is… and whether it's relevant to your business?
If so, you're not alone.
Blockchain has been a hot topic in the finance industry for several years. At times, it has felt a bit overhyped, as the technology continues to evolve without the appearance of developments specific to our industry. However, this technology continues to advance, and it's wise to pay attention to this trend.
Blockchain, the underlying technology for cryptocurrencies like bitcoin, has only been on the scene for a decade.
It's one of the many categories of technology progressing at an exponential pace. Often in the early stages of a technology's digital evolution, the progress can be deceptive. We are still in the early stages of its development and practical application.
A big question I often hear from professionals in the equipment finance industry, is:
"What are people doing about blockchain and how should I be thinking about it?"
To answer this question and others like it, I collaborated with Valerie Gerard and Shawn Halladay of the Alta Group, with the support of the Equipment Leasing and Finance Association, to survey equipment finance industry leaders. The conclusions are described in a co-authored report: summarizing the findings and recommendations for the industry and trade association.
There are several viable uses for blockchain in the finance industry. The key is understanding when it makes sense to apply blockchain and when a problem would be solved better by some other technology.
Blockchain does not solve every problem, but it does hold promise for future innovation.
Get your copy of this free resource below.
Blockchain Beyond the Hype: Perspective for the Equipment Finance Industry
This report summarizes the results of a survey of equipment leasing and finance executives and industry service providers conducted with the support of the Equipment Leasing and Finance Association (ELFA). The report provides a variety of insights and outlines key recommendations for the ELFA and the industry to advance blockchain usage where relevant.
Authored by:
Deborah Reuben, Reuben Creative, LLC
Valerie Gerard, The Alta Group
Shawn Halladay, The Alta Group