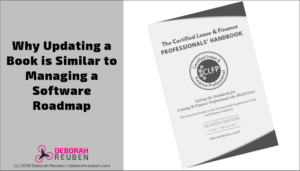 Did you know that managing the updates to a book (such as the Certified Leasing and Finance Professional Handbook) is strikingly similar to product-managing software?
Back in my software product manager days, incorporating updates to the platform required forward-thinking strategic insights, an understanding of the user community, and thorough impact analysis to understand how introducing change would impact feature functionality end-to-end. With every change, it was vital to consider:
How will this change impact existing features?
How might it impact users?
How could it impact future upgrade processes?
These product related questions carry over and remain relevant today, as I develop content for the CLFP Handbook.
The handbook requires a "big picture" and long-term view, as well as an examination of the more in-depth details. On the surface, it may seem that introducing change to a text like this is just a matter of finding and replacing text, however, the reality is radically different.
Akin to the approach taken in software product management, books or other written publications require impact analysis, strategic planning, a roadmap, and a project plan.
Further, one must collaborate with a variety of people in a specific expertise in order to research, update content, and ultimately bring the new edition up-to-date, keeping pace with the changes happening in our industry.
Recently, this approach facilitated updates to the new edition for the CLFP Foundation's 2019 Body of Knowledge, and addressed the business and technology impact of the following trends and industry developments:
ASC 842 Accounting Changes
CECL
Tax Cuts and Jobs Act
Credit Scoring & Behavioral Analytics
Ongoing Credit Review
Updates to these topics led to revisions in multiple chapters; in fact, seven of the book's nine chapters required amendments. Impact analysis is key to work such as this. It's similar to software or digital transformation initiatives.
The cross-functional impacts of a single change can be surprising if they aren't considered in advance. Therefore, while planning to update an isolated topic in this type of book, I don't treat it in isolation. Rather, I consider multiple perspectives: gaining a cross-functional picture of the overall impact of a proposed change. Then, I draw from a diverse set of subject matter experts to obtain varying perspectives.
For this handbook, in addition to chapter updates, we updated the appendix with financial statement review practice exercises to illustrate the credit perspective on ASC 842 impact. Further, we created a new appendix, covering CECL and related cross-functional considerations.
It's an honor to collaborate with leaders and experts in our industry. For this edition, I am grateful to the following subject matter experts who contributed their time, insights and expertise to this project.
Chris Lerma, CLFP – AP Equipment Financing
Chris Maudlin, CLFP – Wintrust Specialty Finance
Kevin Prykull, CLFP – PNC Equipment Finance
Randy Ernst, CLFP – U.S. Bank Equipment Finance
Shawn Halladay, CLFP – The Alta Group
Tina Cartwright, CLFP – U.S. Bank Equipment Finance
Todd Buzard, CLFP – First American Equipment Finance
Tom Ware, PayNet
Special thanks to Reid Raykovich, CLFP who was involved every step of the way and quickly adapted to the online tools that I used to manage the project—enabling us to stay on track, collaborating in real-time throughout the effort.
Whether developing a software roadmap, studying customer experience opportunities, or updating a book, it's crucial to step back and examine the big picture. By using a multi-dimensional approach to understand the scope of impacts and opportunities, you can create a solid plan to achieve the desired objective successfully.
In our case, this process helped us to publish a comprehensive update to a book. How might you apply this thinking to your strategic initiatives?
This approach is similar to what I cover in my signature strategic process and technology workshops. In these workshops, we use a multi-dimensional technique to understand your company's vision, where technology fits in to enable that vision, and what it means to people and processes, as we determine the roadmap and next steps to make that vision happen.
For more information on my process workshops, click here.
For the CLFP Handbook Sixth Edition (for those studying to take the CLFP Exam in 2019) you can buy the paperback edition here and the digital book here.
For the newly released CLFP Handbook Seventh edition (for those studying to take the CLFP Exam in 2020), you can buy the paperback edition here and the digital edition is soon to be released.