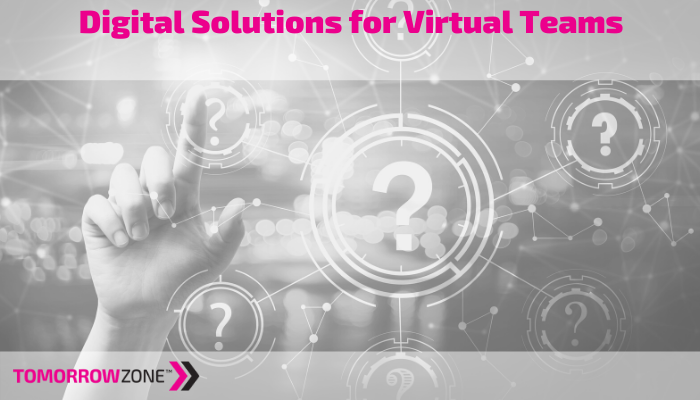 TomorrowZone thinking is about being ready for whatever may come. Who would have thought just two and a half months ago that we would be sheltering in place for this long? While it is a blast getting together with clients to facilitate high-impact problem solving and solution design workshops, we need to shift to digital. With this in mind, we have launched a new digital solution suite to bring the same high impact creativity and facilitation for virtual teams.
Previously delivered onsite, these solution packages are re-designed to help virtual teams improve results and optimize the customer experience. With this digital offering, we continue to focus on helping clients embrace digital technologies and think differently about the future.
How do you stay ahead of tomorrow when all you can think about is today? How do you find certainty when it seems as though everything is in flux? How do you begin to pivot and flex to deal with harsh business realities and dozens of competing priorities?
We help leaders and teams address the complex process and systems challenges of today with an eye on staying ahead of tomorrow. We can connect and collaborate even though we can't be together to throw stickies on the wall or brainstorm at a whiteboard. In addition to 100% digital delivery of all consultations, we are expanding service offerings.
Strategic consulting for individuals and teams. Each package is designed for today's virtual workplace to help you stay ahead of tomorrow. Online facilitator-led strategic work sessions that help you think through problems, identify solutions, expand ideas and possibilities for your most urgent business objectives.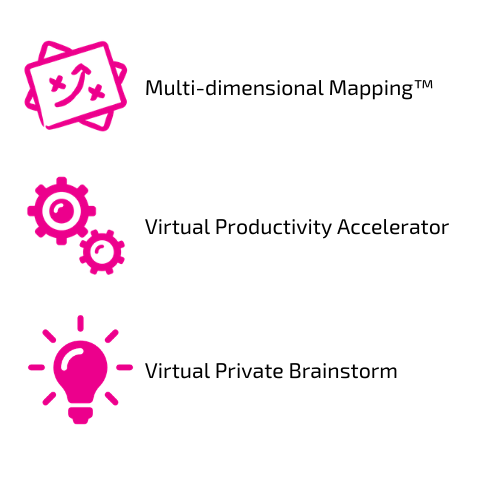 Multi-Dimensional Mapping™  Signature program reimagined for a remote working world. Live facilitator-led strategic process mapping work sessions help you accelerate creative solutions for today's challenges and forward-thinking roadmap considerations for tomorrow. Programs include Current State Clarity and Future State Roadmap.
Virtual Productivity Accelerator is not another bunch of generic tips and tricks. This focused one-on-one consultation is customized to you and your situation right now. We cut through the noise and concentrate on what you need to accomplish and then identify the best ways to work virtually using the tools you already have. Let's find out what's right for you right now and accelerate your productivity.
Virtual Private Brainstorm – book a 90-minute private consulting session to brainstorm through a topic area of your choice. A second look, a sounding board, someone to bounce ideas off of, and someone to ask the questions that help you clarify vision, expand your ideas, and see new possibilities. Live visual facilitation to help you think through tricky problems and expand your thinking about solutions.
See our solutions page for more information about our service offerings for virtual teams. Book a free 30-minute strategy chat to see which solution fits your situation.