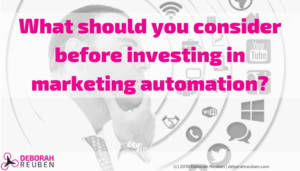 Digital marketing is an important function of daily operations for most businesses. However, overlooking automation in this process may limit potential.
I recently contributed my thoughts on this topic for an article, "Are You Ready to Automate Marketing?" by Susan Carol, CEO of Susan Carol Creative. The article shares insights for equipment finance companies to consider when reviewing marketing automation programs.
A vast landscape of possible marketing technology (Martech) options are available to automate the process and quantify activity, increase performance, and develop new methods. Still, before shopping for new digital tools, an important consideration is customer experience. When planning to automate digital marketing or any aspect of your business, I recommend first mapping out both the desired outcomes you hope to achieve as well as those you hope to help your customer achieve.
Learn more about automating your digital marketing strategy, in Carol's article, here.
Learn about my signature mapping method to help companies understand the who, what, and why before investing in costly technology solutions here.