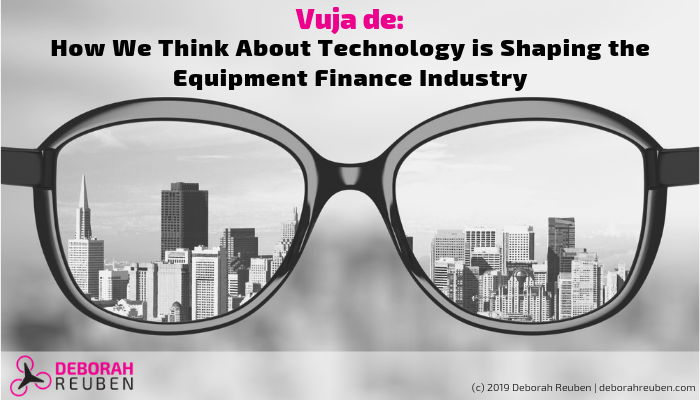 Technological advances are enabling game-changing innovations and stand-out customer experiences in every industry. Equipment finance companies must keep up with the change, as innovative uses of technology will shape the equipment finance industry.
As mobile and cloud technology become the new "normal", abundant technology options are available to businesses of all sizes.
What new technology applications are being leveraged in our industry to create new opportunities, products, or innovative offers to bring value to your customers and future-proof your business?
In equipment finance, status quo digital transformation initiatives are focused less on transformation and more on building a core digital foundation. For example, establishing modern core CRM, Origination, or Servicing / Portfolio Management capability are important initiatives that lay the groundwork for future automation and innovation.
But what is next, what lies beyond the status quo?
Innovative applications of advanced technology are transforming the business landscape: enabling digitally-savvy companies to deliver excellent customer experience, explore new markets, and reimagine existing business models. A shift in thinking about the role of technology is shaping the commercial equipment finance and leasing industry in fascinating ways.
In his book, Originals: How Non-conformists Move the World, Psychologist Adam Grant states, "The hallmark of originality is rejecting the default and exploring whether a better option exists." It's about curiosity. What makes something the status quo, in the first place?
Consider the story of eyeglass company Warby Parker. As college students buried in debt and outraged at the cost of replacing broken eyeglasses, the founders of Warby Parker challenged the status quo. If glasses have not changed for hundreds of years, they wondered, why such a hefty price tag? Curious, their research revealed that a single European company dominated the industry, and nothing in the cost of goods justified the high price. Which led to their next question: what if the experience of buying eyewear could be radically different? The rest is history.
That moment of questioning ("Why are eyeglasses so expensive?") is what Grant calls, "Vuja de, which he defines as the opposite of déjà vu. "Vuja de is [when] we face something familiar, but we see it with a fresh perspective that enables us to gain new insights into old problems." In other words, when we stop taking the status quo for granted and begin to ask new questions, we can see old problems through a new lens.
How can vuja de thinking about technology shape our industry? Technological possibilities present the opportunity to step back and re-imagine how things could be, not based on how it has worked in the past but on where technology could go and tracking those trends. So, how do we keep up with that change, what does it mean for equipment finance, and where do we even begin?
Read the Monitor Magazine article in its entirety here for examples of how vuja de thinking is shaping the industry.