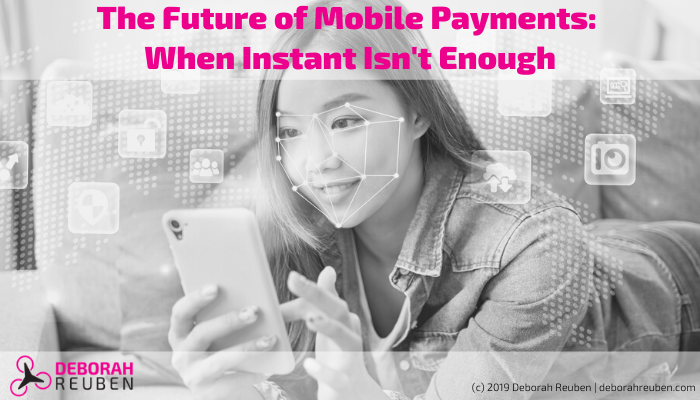 Recently, I attended a fascinating conference that explored the future of mobile payment innovations. Here are my takeaways from the Mobile Payments Conference held in Chicago, IL August 26-28, 2019.
In this space, there are two primary sets of customers with equally important value propositions. The end-consumer and the merchant. Payments are not a product, but an important ingredient in support of other products. So, there are both B2B and B2C considerations for innovators.
Top of Mind
Customer Experience
In many industries, Customer Experience (CX) is a top priority for innovation — and it was the underlying theme for this event.
Creating a frictionless experience requires integration, interoperability of multiple systems, and a clear understanding of the big picture. New mobile payment systems work to streamline customer experiences. Leading companies are smart to leverage the latest technology and securely streamline payment interactions as a foundation for enabling standout customer experiences.
Examples of great CX are all around us. In fact, many of us encounter it within moments of opening our eyes each morning! For instance, I enjoy beginning each day with a cup of coffee. Although I typically prefer to brew my own at home, I rely on Starbucks while out-of-town. This minor detail has introduced a new tech advancement to my life, via the Starbucks app — which I've quickly adopted into my morning routine. For me, Customer Experience begins before I even leave my hotel. First, I use my iPhone to open the Starbucks app and find the nearest location. The app anticipates what I would like to order, based on my history. I order my favorite coffee from within the app and pick it up at the time the app has estimated for me.
By the time I arrive at the Starbucks location, I've already paid, and my order is waiting for me. I simply walk in, grab my coffee, and go. Instant, seamless, anticipatory, cashless. This dematerialization of the barista as the cashier is just one example of mobile payment innovation today.
Is the U.S. ready to go cashless?
Panelists discussed how the U.S. is behind when it comes to the adoption of cashless transactions, in comparison to Scandinavian countries, the U.K., and other regions of the world. While cashless transactions are on the rise in the U.S., there remain a significant number of households (approximately 8M) in our country that are under-banked or operating as cash-only. Although many options exist for transacting without cash, there remain some transactions where cash is still the most appropriate option — gratuity, for example.
Despite this, it's estimated that one-third of Americans don't use cash; cashless transactions are increasing, which brings the potential for disruption. For some companies, their business model is at risk of becoming obsolete. The National ATM Council is working to reimagine the future for these companies. It was interesting to see this issue represented on a panel that discussed societal cashless trends and the unique challenges caused by consumer behavior shifts — such as how the ATM network will remain relevant and evolve in a cashless environment. Companies are reinventing new services to offer within their network.
"Fraud Fuels Friction"
For innovators in this industry, fraud detection and prevention are central to providing a great customer experience. Fraud fuels friction for both customers and merchants, making it difficult to achieve a positive CX. As Generations Z and Y continue to increase their adoption of mobile payments, this challenge is not likely to go away on its own. Across all generations, common customer preferences are ease, convenience, and security. Security is the foundation of service. Speakers recommended gathering all of your data so that you can leverage advanced technologies and fraud detection techniques as you endeavor to provide a great payment experience.
How do you overcome user adoption challenges?
I was most fascinated to hear how mobile payment innovators manage challenges with adoption. Users adopt new capabilities based on utility, community, and brand loyalty (halo effect). Although great capabilities are available to consumers, it can be difficult to convince people to use them.
An effective technique many companies use is to attach the app's new capabilities to the consumer's habits. When the capability is tied to a human habit, it gains adoption. The Starbucks app is a great example of this. As a consumer with an established coffee habit, their app removes as much friction as possible between myself and my daily brew (fast payment, no waiting, less human interaction). I use the app because it tied to an existing habit. Likewise, the Greenlight's app and debit card — a unique fintech startup — makes it easy for parents and their children to manage money, spend wisely, and learn about financial management together. It's tied to something I already do, making it easier for me to do it.
A common challenge to user adoption is called "app fatigue": users don't want to download numerous applications in order to achieve a goal. One approach is to view payment capabilities, not as a product, but as an ingredient in support of other products. The key is to make payments seamless and easy for the customer in the customer's context.
Regardless of the approach, in order for a digital payment experience to be successful, everything about the experience must be better than the alternative. If digital wallets are to be adopted over plastic credit cards, their service, loyalty programs, and payment experience must be superior. Otherwise, a consumer has no reason to switch and update their habits.
What do we see for the future of payments?
Customers expect fast, convenient, and secure digital payment experiences that match the context of the action they're performing. For example, when commuting, it's incredibly inconvenient to locate a kiosk and dig out a credit card in order to pay for transportation. Many new payment possibilities will be found at the convergence of multiple advancing technologies: Machine Vision, IoT Cloud, 5G, Mobile, and more. Here are just a few examples of next gen payment ideas in the lab and on the horizon:
Invisible payments are a CX concept that is expected to continue growing. These allow loyalty and payment transactions to happen in a single action (from the customer's point of view). For example, when I use my Starbucks app, I earn stars and make a payment at the same time. No extra actions.
Together, rapid advances in technological capabilities and customer demand for convenience is leading to an increased use of biometric identification (thumb or face) for payments. Juniper Research forecasts biometric authentication of an estimated $2 trillion in in-store and remote mobile payments by the year 2023. With this, a person won't need their mobile device in-hand to make a payment; physical features can be used to authenticate identity.
One innovative company, OV Loop, is creating a device, channel, and payment agnostic platform for multi-mode conversational commerce, that doesn't require a separate app. The vision is to enable a hands-free digital commerce which combines voice, text, video and more, to enhance the payment experience. Although this was described as a business-to-consumer experience, I can imagine its possibilities for business-to-business interactions. With this type of technology empowering smart humans, it could take service and experience expectations to a whole other level. High Tech tools + Human Empathy & intuition = excellent anticipatory service experience.
During the conference, one of the more interesting innovations shared uses "Ultrasonic Technology" to create invisible payments, bound in defined spaces. The presenter from LISNR described using sound waves undetectable to the human ear, in order to transmit information for streamlined payment transactions.
In the future, when instant isn't fast enough, AI will go beyond simplifying the payment experience, to power the anticipation of payment needs and prevent fraud at point-of-sale. With scan and go shopping experiences like Amazon Go, we see AI powering anticipatory payment technology and digitization of brick and mortar shopping experiences.
Machine-initiated transactions are another new frontier for the future of payments. Imagine a car which runs its own diagnostic, recognizes when it needs service, makes an appointment, notifies the owner, drives to the appointment, and manages the payment transaction. While this is an exciting innovation to imagine, it poses the challenge of determining how to handle authenticating customers and their machines.
Conclusion
In a fragmented industry, with so many players operating in silos, change is difficult. Overcoming this will take new ways of collaborating. As one speaker, stated, "Without strong partnerships and continuous investment in technology, the vision of revolutionizing the customer experience will not be realized."
At the current rate of change, our super-connected world brings super challenges. We can create beautiful customer experiences, but they take a lot of technology. Coordination of partners working together across an ecosystem will be necessary to bring these simplified, frictionless, effortless payment experiences to life. We're likely to see the payment CX continue to evolve from seamless, to effortless. From meeting customer needs, to anticipating their needs.
With artful curation of content and speakers, the Mobile Payments Conference provided a diverse and broad overview of the current issues and innovations in the mobile payments space. It was a fantastic lens into a divided industry challenged to work together and continually reinvent and innovate into the future. Regardless of technology, customer experience balanced with security is at the heart of payments innovations. The future of payments is intelligent, instant, integrated, and invisibly built on a strong foundation of security. Getting there will be an interesting adventure.