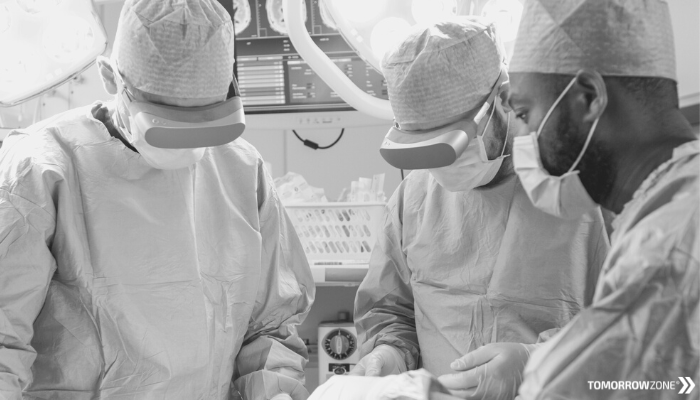 The TomorrowZone UnConference is unconventional by design, going beyond the surface and escaping the status quo.
Session 2 of the September 2021 series, Right Solution for the Right Job: Giving Surgeons X-Ray Vision, is not science fiction, it's science now.
And because it's science now, what was top of mind was the leading question: What might be possible at the intersection of cloud, AI, and Augmented Reality?
To answer this question, TomorrowZone brought in Mina Fahim, CEO and President of MediView, a company working to give health practitioners "X-ray vision" to simplify minimally invasive procedures, enhance clinical workflow, and improve patient outcomes using Augmented Reality.
"Doing technology for the sake of technology is not worth the time or effort. If the technology is not going to lead to a product or service that's going to inherently make the life of somebody better, it's not a technology worth using." – Mina Fahim
Mina's presentation followed 3 main principles:
Technology is a means to make lives better.
Everything done, every single day with customers, is an interaction. What part of the interaction process can be optimized?
Choose the right tool for the right job.
What is the job either the internal or external customer is trying to perform? And what tool, service, or product is going to actually help address that?
Build data infrastructure.
Data is needed to understand how to identify the job, how the product or service is being used, and if it's actually serving the needs of the customer.
To stretch thinking and gain peer insights even further, the thought leaders attended breakout groups, discussing what they would love to see but think is impossible in their field, and what is the greatest gift they could give their customer (or borrower, lender or investor).
Some takeaways:
Augmented Reality (AR) is enabling us to reimagine what it means to be together
Empathy is the core of jobs to be done
Information gives you insights, which can be translated into actions
Security & Privacy should not be an afterthought
Connect developers with the end consumer
The foundation of good collaboration is trust
"How are you going to delight your customers?" – Mina Fahim
If you would like to keep up with future UnConference events from TomorrowZone, click here to join our mailing list.