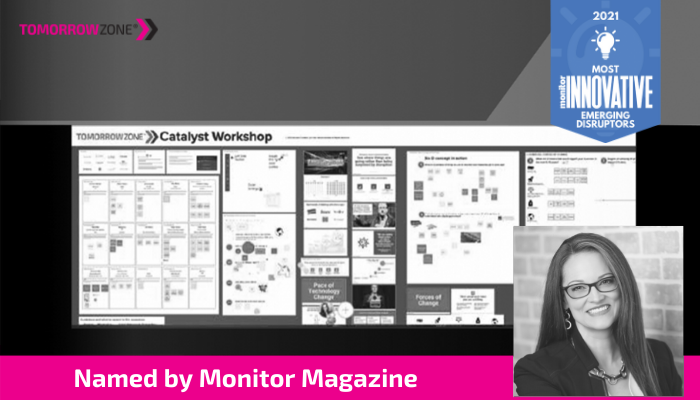 Monitor Daily has named TomorrowZone® as an Emerging Disruptor, one of the 14 companies that could potentially disrupt existing business models or processes. While this is the first issue focused on the most "innovative" companies, Monitor Daily has been serving the unique informational needs of the equipment finance and leasing industry for more than 40 years.
If 2020 did one thing, it was to prove to business leaders the art of "what is possible" through a little innovation. More than ever businesses have had to show great agility, adaptability, and ingenuity to survive in this world of accelerated change.
As digital technology is essential for successful equipment finance companies, TomorrowZone® fulfills a critical need – building a community within the industry dedicated to technological advancement and innovation. Forward-thinking professionals are given a space to reimagine their industry, drive innovation, enhance customer experience, and grow their business.
"We are honored to be named as an Emerging Disrupter by Monitor. Now more than ever, fresh perspectives and unique collaborations are vital for shaping the next normal. We are creating a virtual place for forward-thinking professionals to gather, explore new possibilities, and turn ideas into tangible action." says Deb Reuben, CEO and Founder of TomorrowZone® and widely considered a beacon on innovation.
Read the full article here, page 73.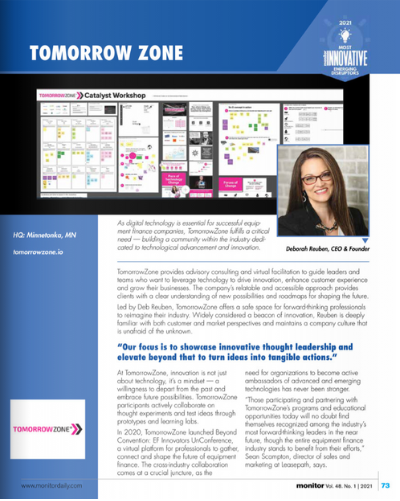 About Tomorrow Zone:
TomorrowZone® is a future-focused consulting firm specializing in technology trends and advising financial services leaders who want to capitalize on the latest innovations to prepare for the future. TomorrowZone® provides expert consulting and impactful workshop design and facilitation so leaders and teams can have a clear understanding of the technologies that are going to transform their businesses and customer experiences. We help you see the bigger picture, explore the art of the possible, and build momentum for transformative change. For more info, visit our website.