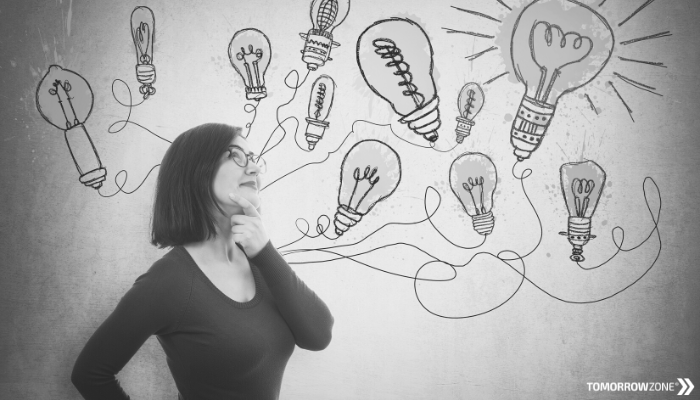 This article was originally published by ELFA in January 2023.
Reprinted with permission from the author.
INNOVATION IS A LOADED WORD conjuring up different images for each of us. For some, it's developing the next big product or service. For others, it's improving processes, creating efficiencies and driving down expenses. And for others still, it's completely rethinking a business model. Whatever it means to you, one thing is certain: Innovation is essential for survival in today's uncertain and rapidly shifting business environment. The trouble is that we can get so insular and stuck in our day-to-day that we don't connect with new ideas and possibilities for the future and risk being left behind. Even worse, without an awareness of what is going on outside your company, you may be shaping your tomorrow with yesterday's thinking.
That's why we have convened an innovation focused working group of senior industry leaders representing a cross-section of our industry for the past four years. Each month, in a facilitated trend-scanning session, we discuss top trends and future considerations and what they mean for equipment finance. The mission and vision of the group are to inspire new thinking about technology and innovation among equipment finance industry leaders.
To include more voices in these conversations, we host quarterly virtual Innovation Roundtables. These events provide an opportunity to connect peer-to-peer and gain fresh insights on hot technology innovation trends and how to be future-ready.
Since it launched in January 2019 as an experiment, the group has evolved and continuously catalyzed industry-level innovation discussions. For 2023, ELFA has converted the working group into a formal committee, the "Innovation Advisory Council."
2023 Outlook
We asked a few members of the Innovation Advisory Council to share their thoughts on hot topics for the coming year, and here's what they shared:
"COVID has accelerated the need for lessors to digitize their lending operations and enable their distributed workforce to manage all aspects of the customer lifecycle on a single platform. In 2023, lessors will begin leveraging AI tools like Salesforce Einstein and Genie. With these tools, lessors can analyze data models and advanced analytics to automate aspects of the lease lifecycle, proactively suggest finance products or product add-ons, improve operational efficiency, and simplify the experience for lessees."
– Martin Klotzman, Ivory Consulting Corporation

"Digital transformation continues to be at the forefront of our industry with an emphasis on bringing along our customers for the journey. Equipment finance companies have gotten better at tackling digital challenges in the last few years; however, new digital stressors continue to emerge. How do we transform fast enough? How do we speed up innovation cycles while sustaining a competitive edge? Organizations will need to remain agile and work to digitize in a way that empowers customers and provides solutions that help transform their respective industries. That's technology with a purpose."
– Katie Thompson, Siemens Financial Services, Inc.

"In 2023, it will be impossible to have a business conversation without considering technology. This is not to say that technology should drive our business decisions; however, in today's world, the B2B market is acting more like a consumer market. Doing business in a non-automated, non-predictive way will not be sustainable or tolerated by our customers. The key will be to find a way to provide a personal touch when interactions may not involve a human."
– Tawnya Stone, GreatAmerica Financial Services

"Digital innovation will be responsible for greater revenue generation in 2023. Self-service delivery models enabled by AI will become the preferred channel for equipment buyers seeking financing. Increasing compliance requirements will reward efficiency over personalized selling. Lenders partnering with fintechs will be common practice as new business models take hold driven by the consumerization of enterprise tech. Embedded Finance will take root for equipment sales. Vendors will uplift their finance and insurance (F&I) capabilities following consumer auto dealers. The prevalence of IoT and equipment telematics will be leveraged to optimize billing models and better manage credit risk. Electrification of commercial equipment will shift buyer paradigms regarding traditional equipment ownership models driven by OEM's introduction of subscription-based models."
– Beckham Thomas, Trnsact

"As we move into 2023, it is more important than ever that organizations revisit their digital strategy, ensuring that it reflects the latest digitally driven solutions while remaining equally focused on the mission they wish to achieve. With advances in AI, IoT and machine learning capabilities, it's easy to get distracted. Companies that figure out how to link digitally-enabled solutions most closely aligned to their organization and customers' needs will be innovators within the equipment finance industry, building more complete and personalized products from beginning to end."
– Lisa Fitzgerald, CIT
2022 Achievements
In 2022, our working group contributed technology and innovation content to ELFA webinars, conference sessions, social media posts, articles and research, as well as the Equipment Leasing & Finance Foundation's Industry Future Council. The group also hosted ELFA's quarterly virtual Innovation Roundtables on technology, innovation and future topics, which featured diverse industry representation.
The Innovation Roundtables are carefully designed to bring cutting-edge, hyper-relevant technology innovation discussions to a broader audience throughout the year. Top-of-mind innovation topics are selected by the working group four to six weeks before the roundtable, enabling us to dive into what is top of mind now.
2022 Roundtable Recap
March's Innovation Roundtable theme was Digital Adoption. The session kicked off with a message from 2022 ELFA Chair Mike DiCecco. Panelists Tawnya Stone, Beckham Thomas, Moto Tohda and David Giamvu shared insights on overcoming digital adoption challenges and building an innovation culture for future readiness.
The big takeaway:
We must keep customer and business outcomes in mind and consider shifting demographics as we shape the future of digital customer experience.
May's Innovation Roundtable kicked off with a lively welcome message by Nancy Pistorio, Chair of the Equipment Leasing & Finance Foundation. Panelists Robert Preville, Eldon Richards, Barry Beer, Rafe Rosato and Lisa Fitzgerald led a spirited discussion exploring the question: Is the traditional equipment finance "portal" a notion of the past? What's the future of the equipment finance customer experience?
The big takeaways:
We need to meet customers where they are, not where we are. More and more customers expect a digital experience in their pocket.
Privacy, security, compliance and convenience are a delicate balance; we need to think differently to design excellent digital customer experiences.
The August Innovation Roundtable kicked off with a message from Ralph Petta, ELFA's President and CEO. Panelists Tawnya Stone, Tina Cartwright, Jillian Munson and Denis Stypulkoski led a fascinating discussion on digital transformation realities in equipment finance.
The big takeaways:
It takes strong leadership to create roadmaps for the future. We must elevate to ecosystem thinking—employee, customer and partner—as we consider the future.
Innovation, by definition, works against typical finance culture; it's fundamentally different for everyone at some level. We need to challenge long-held assumptions about digital transformation and customer experience.
November's Innovation Roundtable started with an inspiring message from 2023 ELFA Chair Bob Neagle, sparking a great pre-Thanksgiving discussion about the technology that has most impacted our lives. Panelists John Cooper, Beckham Thomas, Jen Martin and Roman Gajda led a discussion on top-of-mind customer experience trends and overcoming current innovation challenges in our industry. Industry leaders share a common goal of providing the best customer experience, and to do this we must understand the customer's specific needs (whether lessor/borrower or vendor/dealer). We must recognize that customers and dealer salesforces are evolving, adopting digital and driving significant changes in customer experience expectations. With the aging sales force and the changing of the guard, we urgently need to adopt new technologies and training. C-suite support for innovation and a straightforward process for harnessing and bringing the most valuable ideas to life is vital. When leaders understand, support and encourage innovation and enable their team with the capability, skills and behaviors to do so, it promotes a culture empowered to innovate.
We hope you will join in the innovation discussion to shape the future of our industry in the year ahead. Register today for ELFA's Innovation Roundtables.