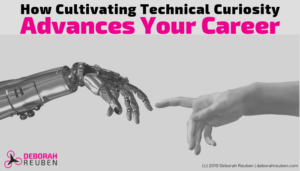 This is a post that I originally published on LinkedIN as "WLiT: Cultivate Technology Curiosity and Advance Professionally" on May 30, 2017.
Although the event details are in the past, the advice gleaned from the occasion is timeless. In this age of rapid change, these takeaways and encouragement to take ownership of your career development is more important now than ever before.
A new and exciting experience, last week I attended my first WLiT quarterly evening event and it was awesome! Women Leading in Technology (WLiT) is a program of the Minnesota High Tech Association that works to promote, educate, and empower women in technology across Minnesota. Each quarter they host an evening event for networking and learning. The welcoming environment made it easy to meet new people, learn, and share ideas.
In addition to meeting new people and making new connections, the panel discussion, "How to Remain Technical while Growing Your Career," was educational, insightful, and entertaining. The program featured a remarkable panel of women in senior corporate roles who have intentionally made the effort to stay current on technical knowledge while rising in leadership roles. Speakers included:
Suzette Allaire, Chief Operations Officer, Lindquist & Vennum
Isabelle Moulinier, Director, Product Innovation, Thomson Reuters
Jayshree Seth, Corporate Scientist, 3M
Paige Vinall, Vice President of Application Development, Allianz Group
Each panelist shared the story of their career journey. We heard about their tough decisions, overcoming challenges and failures, career pivot points, and insights on how they increased skills necessary to influence people as leaders while staying hands on and current with the latest technologies. For each of them their technology knowledge, curiosity, and willingness to try new things helped them to advance in their careers.
It was inspiring to hear the stories of each woman who candidly shared about their mindset and the tactics for overcoming common challenges faced by women in technology. With the rapid pace of change today, it is easy to fall behind if you are not deliberately making the effort to stay current. Here are some of the key insights I took away for increasing technical knowledge while advancing professionally.
You must make a conscious decision to take ownership of your own personal growth and technology education.
Be Intentional About Your Own Personal Growth
You must make a conscious decision to take ownership of your own personal growth and technology education. You don't need anyone else's permission to pursue knowledge. Be curious and make time to learn about the latest technologies. With so many new developments, where do you begin? Follow your curiosity and interests and find tutorials and ways to experiment with the technology. When you hear a technical term or new technology being discussed, go look it up and learn about it. An abundance of information about any technology you may want to learn about is just a google search away. It's a matter of making it a priority and focus.
Strategic Personal Branding
A couple of the panelists shared that if they had it to do over again, they would not stay in a role that was not a good fit and they would have thought earlier about where they wanted to go in their career. Do you want to be known for your technology knowledge? One of the panelists shared that,
"You need to think about your personal brand. What do you want it to be?"
When the door of opportunity opens, go for it, and remember, it doesn't have to be forever.
Dare to Try New Things
Develop courage to get out of your comfort zone from time to time and throw yourself into new experiences that stretch you. When the door of opportunity opens, go for it, and remember, it doesn't have to be forever. I love the advice of one of the panelists, who shared that when she considers a career move, she says,
"This is what I am going to do FOR NOW."
What is Work/Life Balance?
When asked about how to manage work/life balance while pursuing technical knowledge and advancing professionally, one panelist stated emphatically, "Balance is a myth. Stop seeking something that is not achievable" I tend to agree. When you are pursuing excellence in a specific area of life, you will be out of balance from time to time. Priorities are important, and sometimes you are going to lean more toward home and family sometimes you will need to lean more toward work, you won't be perfect, but it will all work out.
Making it Personal and Taking Action
Intentional personal growth is part of my plan every year and includes regular reading, attending events, and a course or two. This year, I am pursuing even more hands experience with new technologies. Reflecting on the WLiT evening, I was inspired to continue and even increase my own personal technology experimentation and education efforts currently focused on machine learning & robotics, and blockchain. Here is an example of what I am doing this year:
Machine Learning & Robotics: Since January, I have been experimenting with my Cozmo robot and python programming to interface with the robot through the system developer kit (SDK). Recently I ran across a new experiment and look forward to trying it out.
(Update: since this post was written, the robotic programming interface continued to improve, but sadly, Anki, makers of Cozmo announced a shutdown of operations).


Blockchain: as a founding member of a small Twin Cities blockchain meet up, established in March, I get to work with a super fun brilliant group of women who are learning and experimenting hands on with blockchain technology.
(Update: since this post, we have evolved the meetup to cover other technology topics such as AI, Mixed Realities, and Agile Methodologies).
Throughout the WLiT event, it was inspiring to hear stories from other women who have advanced professionally in technology careers and great see so many women in interesting technology roles from a variety of major companies all in one place.
Sometimes women in leadership or technology roles can end up being the only woman in the room. Events like this are encouraging and help you see that you are not alone. The smart design of the WLiT event makes it very easy to connect with new people, learn new things, and share ideas about how to stay current with technology amid all the other demands of life and career. You can find more information about the Minnesota WLiT quarterly events at their website, here.
WLiT was worth attending and I plan to attend again. This event allowed me to walk away with new connections and new insights into how to maintain and increase technical skills while taking on new challenges. I left inspired to continue pursuit of personal growth and to remain technically curious.
What technologies have caught your curiosity? What are you doing to pursue learning about new technology interests?