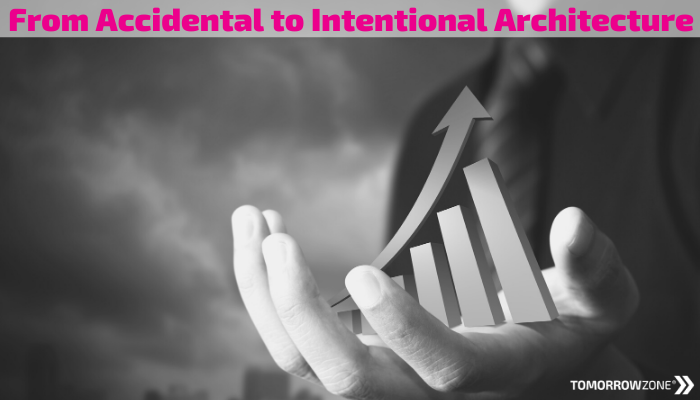 When I first began working with one of my clients, leadership insisted, "We don't have many technology tools." We rapidly mapped out their business apps to find close to sixty different applications in use cross-functionally in the organization to get business done.
Understanding the current state technology situation helps you see if and where you need to make changes to prepare for the future. Equipment finance companies often struggle with significant sprawl of duplicate and disparate applications across their technology landscape.
Why does this happen?
Part of it is the way leasing companies evolve. Typically, the business starts up with a focus on generating revenue. Doing whatever it takes.
Along the way, well-intentioned people add tools as needed. They get the job done. The company's technology landscape grows slowly. Suddenly there is the realization that the company is dependent on a fragile, complex, and limiting "accidental architecture."
Too often, technology strategy and business architecture are an afterthought. In these cases, rapid change becomes difficult and even impossible. Outdated technology prevents fast response short-term and limits innovative possibilities long-term.
From Monolithic Rigid Systems to Interconnected Ecosystems
Cloud technologies, integration, and interchangeable components are fundamental to digital agility. Cloud platforms are an on-ramp to accessing advanced technology capabilities. From artificial intelligence capabilities to advanced analytics to elastic infrastructure management, the cloud enables flexibility; you need to change and flex with this business environment's dynamic nature.
The new approach is a modern connected API-driven ecosystem of the right tools at the right time – a system designed to optimize customer experience, flexibility, and scalability long term. The future demands the ability to provide flexible and fast customer service capabilities – the capacity to respond to rapidly changing market conditions. When the customer's context has shifted to all-digital, outdated, rigid, and slow-to-change structures won't do.
Considerations for Shaping Your Next Normal
As you chart your course for the future, are you considering technology decisions with a broad or narrow focus?
Will you have the ability to scale and change and grow for the future?
When the world suddenly shifted to digital, were you ready?
What can you do now to be in a continual state of readiness?
How might you reimagine your technology roadmap for an increasingly digital world?
How might you build flexibility into your technology, processes, and customer experience to accommodate future disruptions?
Are you willing to challenge your assumptions about how you do business? Are you ready to challenge previously sacred tools, approaches, policies to adapt and shape the next normal?