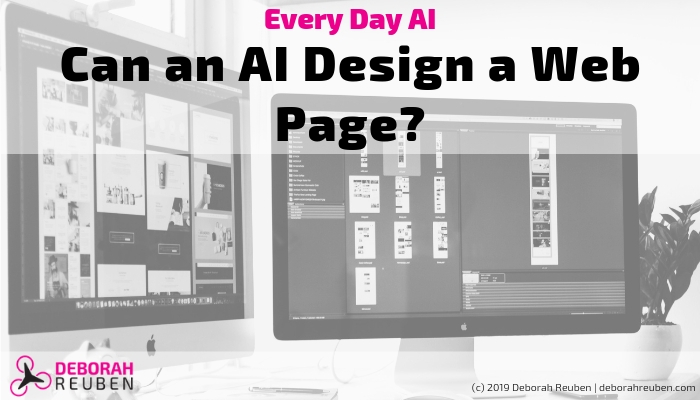 "If you are in a creative field, AI can't replace what you do."
At one time, that was my opinion. That belief remained steadfast until my website was in need of an update, thus sparking an experiment. As a naturally curious person, I wondered if I would be able to manage my own page design. Specifically, is there an AI app for that? The resulting experiment blew my mind.
As a person who keeps up on trends, I know that AI is developing fast and has been applied to creative pursuits in various experiments. However, until I experienced this, I hadn't realized the significant impact of AI for content design and creation.
The Experiment
As it turned out, there is an AI for that. Firedrop.ai has an AI named "Sacha" that combines machine learning and a chatbot interface for intelligent automation of webpage design.
Sacha creates an interesting experience because it is a collaborative design and idea generation. Working with this app feels similar to hiring a business analyst or web designer. The AI plays the role of the designer: gathering your requirements, asking you questions about what should go into your webpage, and suggesting content and design elements. Finally, the app begins to build the web page right before your eyes.
This video is a brief demo of what it looks like to work with Sacha. On the right side of the screen, you'll see a chatbot interface, where the AI is asking questions and you type an answer or make selections depending on the context.
As you supply more information about the website, the AI supplies options for relevant images, colors, fonts, and layouts — assisting you in the rapid design of your web page. You supply content, Sacha designs it, and then you publish it.
What Worked for Me?
This tool makes web page design very easy. The chatbot user interface was simple, familiar, and responsive. As we went through the information gathering session, the AI rapidly-applied design concepts.
The AI understands the principles (or "rules") of design. It asks you questions and applies those principles to generate multiple ideas and options. In this experience, you are collaborating with the AI through an iterative design process, it doesn't replace you. Although you are still making the decisions, it is generating ideas and options — responding much faster than a human could.
This is a really slick tool to use when you need to create a quick web page, you know your content, and what you want.
What Didn't?
Often, we need help figuring out what we want and how to create content. In those cases, working with humans is so much better. Unfortunately, I wasn't clear on what I wanted.
Machines aren't ready to guide us with the creativity and intuition of experienced humans… yet. Maybe someday this will be the case. I learned that to get the most out of a tool like this, you need to have complete clarity on what is needed.
The other drawback: like many of the AI tools in my experiments, Sacha is still in beta. It is evolving, but there are some quirks to work out. It also takes time and patience to get used to collaborating with the AI.
Result?
At the time of this test, while I was impressed by what this AI app could do, I prefer human collaboration for this type of project. Ultimately, I chose not to invest any more time in working with this app, and I re-focused my energy back to my original goal, by engaging a great creative team to help me with my website.
That said, I definitely will try Sacha again later, because one of the things I'm learning through these experiments is that these AI-driven tools improve extremely fast. If I try this again next year, I'll likely have an entirely different experience — with more clarity about what I want on my website, the tool could add tremendous value for future updates.
How could this type of AI application help you?
This tool could be useful to any professional who knows what they want and needs a quick web page design. Perhaps you have a special event coming up and need a quick web page design or a starting point for something that you plan to improve upon later. 
Beyond the practical application of the app itself, using this tool shifted my thinking about the role of humans in collaborative design pursuits. Imagine the possibilities of a human/machine collaborative process that creates proposals, pricing, reports, or other content based on answers to questions posed in a chat conversation. This experience sparked new ideas for the practical application of AI and advanced user interfaces for other types of professional tasks and opened my mind to reconsider the role of humans in the design process.
To view short presentations on each of these experiments, see my video series Everyday AI.