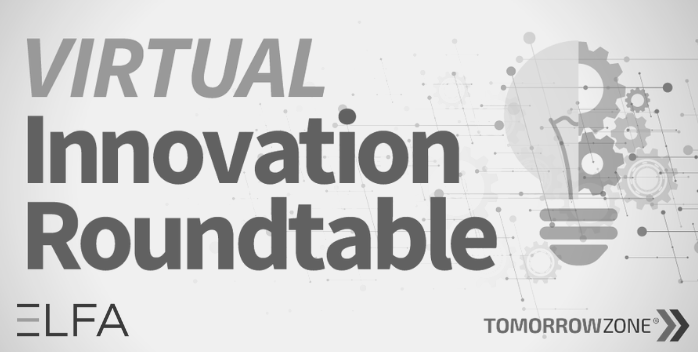 Association recognizes members of 2023 Innovation Advisory Council
Washington, D.C. – In recognition of the critical importance of innovation in today's rapidly shifting business environment, the Equipment Leasing and Finance Association will present four Innovation Roundtables in 2023. These virtual events will allow equipment finance professionals to find out what is on the minds of their peers, share ideas and discover new approaches for tackling their innovation challenges.
"In our busy lives, there is a danger of getting stuck in the day-to-day and not connecting with new ideas and possibilities for the future," said Deborah Reuben, CEO & Founder of TomorrowZone, Chair of the ELFA Innovation Advisory Council and facilitator of the Roundtables "Don't risk being left behind! Join our 2023 Innovation Roundtables to connect with your colleagues and gain fresh insights on how to be future-ready."
The 2023 roundtables will be held on Feb. 16, May 18, Aug. 10 and Nov. 16. Members of the ELFA Innovation Advisory Council will select the topics and serve as guest speakers and discussion leaders at each roundtable. The format combines large and small group guided discussion and facilitated, peer-to-peer idea exchanges allowing attendees to dive into hot innovation topics and what they mean for equipment finance.
Planning Committee
ELFA is pleased to recognize the subject matter experts on the 2023 Innovation Advisory Council who are involved in presenting the Innovation Roundtables:
Deborah Reuben, CLFP, CEO & Founder, TomorrowZone (Council Chair)
Michael Baez, VP, Professional Services and Customer Strategy, Leasepath
Barry Beer, Business Technology Strategy Director, Dell Financial Services
Tina Cartwright, CLFP, SVP Information Technology and Operations, Equipment Finance, U.S. Bank
John Cooper, Director, NAFTA Financial Services Business Solutions, CNH Industrial Capital LLC
Andrew Cotter, EVP, Chief Information Officer, Somerset Capital Group, Ltd.
Lisa Fitzgerald, Director – Business Capital Technology, CIT
Roman Gajda, Director of Financial Technology Solutions, ENGS Commercial Finance Co.
Kaheres Hahn, Finova Capital, LLC
Martin Klotzman, CLFP, Senior Manager Marketing and Product Management, Ivory Consulting Corporation
Jennifer Martin, CLFP, SVP, Sales Enablement and Initiative Support, Key Equipment Finance
Jillian Munson, Product Manager, QuickFi by Innovation Finance USA LLC
Tyson Norman, Director of Technical Infrastructure and Chief Information Security Officer, Caterpillar Financial Services Corporation
Sheila Oliver, Global Product Manager, Retail Product Families, John Deere Financial
Robert Preville, CEO, APPROVE
Eldon Richards, CTO, Solifi
Rafael Rosato, Chief Innovation Officer, DLL
Tawnya Stone, CLFP, Vice President, Strategic Technology, GreatAmerica Financial Services
Denis Stypulkoski, Founder and Principal, Reimagine Advisors
Beckham Thomas, CEO, Trnsact
Kaitlin Thompson, New Product Development & Sales Enablement Specialist, Siemens Financial Services, Inc.
Motofumi Tohda, CLFP, Vice President / Information Systems, Active, Tokyo Century (USA) Inc.
More Information: For more information and to register for the 2023 Innovation Roundtables, please click here.
About ELFA
The Equipment Leasing and Finance Association (ELFA) is the trade association that represents companies in the $1 trillion equipment finance sector, which includes financial services companies and manufacturers engaged in financing capital goods. ELFA members are the driving force behind the growth in the commercial equipment finance market and contribute to capital formation in the U.S. and abroad. Its 575 members include independent and captive leasing and finance companies, banks, financial services corporations, broker/packagers and investment banks, as well as manufacturers and service providers. ELFA has been equipping business for success for more than 60 years. For more information, please visit www.elfaonline.org.