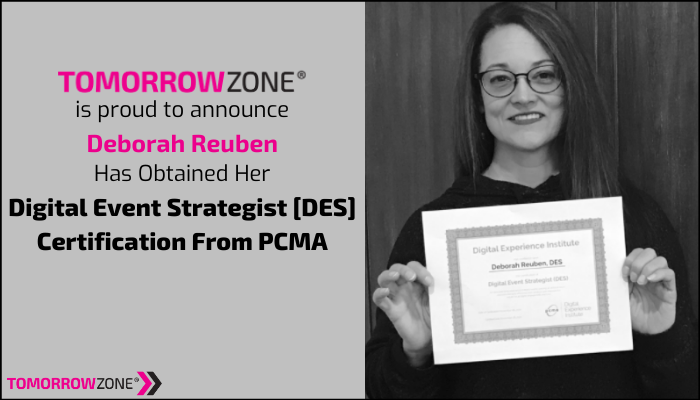 March 18, 2021 – TomorrowZone® is proud to announce that its CEO and Founder, Deborah Reuben, obtained her Digital Event Strategist (DES) Certification from Professional Convention Management Association (PCMA). The DES certification helps industry leaders create digital event strategies, select the leading technologies, reach new audiences with engaging content and interactive experiences, and measure success.
PCMA's certification program was among the first-to-market, and as of Oct. 2020, it is the most current and comprehensive. Digital and hybrid events are here to stay, and strategists are in high demand.
"I'm excited to combine my equipment finance industry knowledge with passion for technology, innovation, and future with digital event strategies to create forward-thinking and unique experiences for equipment finance professionals," said Deborah Reuben. "We are building a platform that brings together diverse and brilliant minds to spark innovative ideas to shape the future of our industry."
About Deborah Reuben
Deborah "Deb" Reuben, CLFP, DES is CEO and Founder of TomorrowZone®, a technology strategy firm inspiring fresh ideas and collaborations to shape the future of business. She inspires new thinking to explore the art of the possible through her extensive technical knowledge, equipment finance experience, and passion for challenging the status quo.
About TomorrowZone®
TomorrowZone® is a future-focused consulting firm specializing in technology trends and advising financial services leaders who want to capitalize on the latest innovations to prepare for the future. TomorrowZone® provides expert consulting and impactful workshop design and facilitation so leaders and teams can have a clear understanding of the technologies that are going to transform their businesses and customer experiences. We help you see the bigger picture, explore the art of the possible, and build momentum for transformative change. In 2021, TomorrowZone® was named one of the most innovative companies in the equipment finance ecosystem. For more info, visit our website.