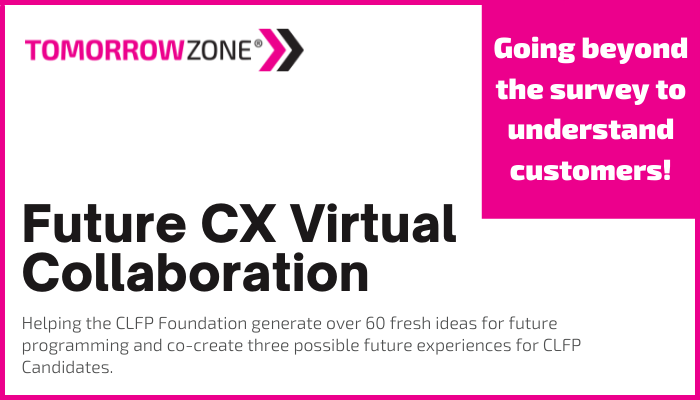 Is it possible to be more energized after a virtual meeting?
According to the CLFP members who attended last month's 90-minute session led by TomorrowZone®, the answer is a definite YES!
The session featured future customer experience mapping exercises and included CLFPs from 12 different companies representing a cross-section of the CLFP membership.
The session led to:
49 new insights on issues and obstacles faced by CLFPs
33 ideas captured for vision and possibilities
31 actionable ideas for the CLFP Foundation to implement
"Collaborating like this is better virtually. We tend to withhold our thoughts in person, but this environment enables more openness to explore rapidly. We could never have done this onsite with 12 different companies and diverse participants."
– Reid Raykovich, Executive Director, CLFP Foundation.
The CLFP Foundation is actively working on several out-of-the-box ideas generated from the session, including creating a more robust sample exam and reimagining the virtual ALFP from a two-day to a three-day event.