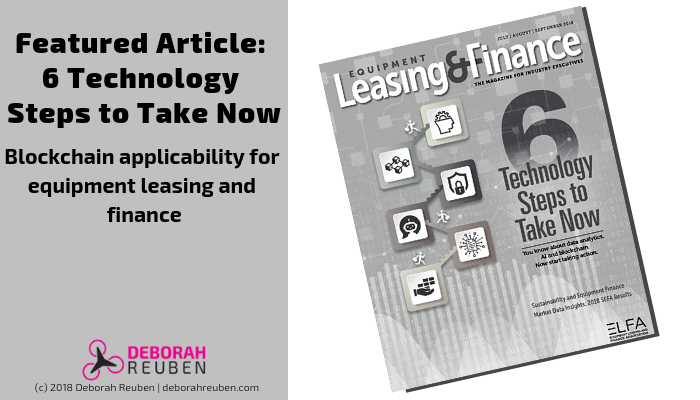 Undoubtedly, keeping up-to-date with the advancements of the ever-changing world of technology has become increasingly essential to the ways in which we do business. Accelerating innovations enable optimal user interactions: driving higher expectations for the customer experience. These innovations impact every industry – changing the way we live and the way we do business.
For those looking to learn more about the applicability of blockchain and other emerging technologies for equipment finance, I was interviewed by Susan L. Hodges for an article in Equipment Leasing and Finance Magazine, titled "Technology Steps to Take Now: You know about data analytics, AI and blockchain. Now start taking action."
In the article, Hodges provides steps to take that will increase your business efficiency and profits. She also mentions that businesses are not using their data to its fullest capability. She provides steps that businesses can incorporate by using the newest powerful tools.
I contributed insights on how the interest in the blockchain topic is expanding to more business people where before it was mostly popular among technology enthusiasts. It is important to understand that blockchain does not solve everything and won't replace the need for other types of databases, but it could complement them. When we understand this concept, and what blockchain will enable, it helps us have a better idea about identifying viable use cases to imagine more efficient alternatives to business processes.
Besides learning how blockchain can be a solid technology step for your business, Hodges discusses ways to implement Smart Contracts, opportunities to apply AI and considerations for other applications of technology relevant to the equipment finance industry.