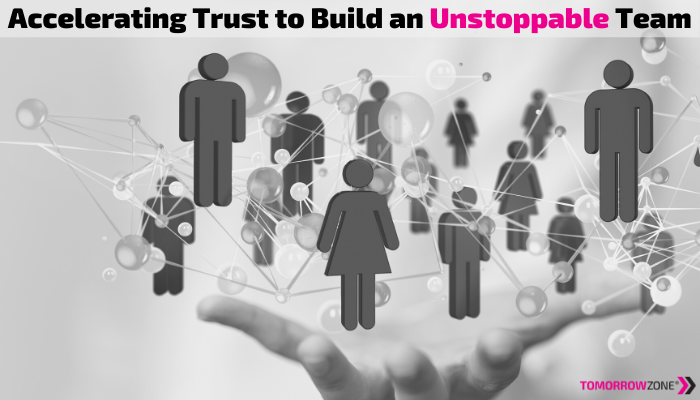 This article was originally published by MonitorDaily in April 2022.
Reprinted with permission from the author.
Who knew getting closer to your coworkers was as easy as sharing your favorite media or delving into what a song, movie or moment means to you on a personal level? Who knew experiences like these can bring a team closer together and foster a system of benevolence-based trust, increasing productivity and performance? Deb Reuben of TomorrowZone sat down with Brian Mohr of Anthym to learn more.
Breakthrough innovation doesn't just happen. It requires an environment of trust, teamwork and transparency to sprout and thrive in a business setting. A genuine connection with a coworker, while it can't be mandated by your employer, doesn't happen accidentally. Getting to know your coworkers takes deliberate action to develop a deep sense of belonging, inclusion and trust, which, in turn, will enable a team to perform at higher levels. Brian Mohr, inventor of the anthym experience and CEO and founder of Anthym, sat down with me to share insight on his innovative, new approaches for team building.
DEBORAH REUBEN: Tell me about your background and your journey to where you are today.
BRIAN MOHR: Graduating from college, I had no idea what I wanted to be and was fortunate to land in a great financial services organization. Amazing people surrounded me, contributing to my success. Anxious to climb the corporate ladder, I moved around the country to wherever the opportunities were – eventually realizing financial services was not where I wanted to spend my life. I wasn't living my purpose.
In the late '90s, purpose and fulfillment were not as vital as today. I did a "control-alt-delete" on my career, joining a startup, jobbing.com, in 2000 – online job boards were creating massive disruption; it was awesome.
Fortunately, our CEO invested tirelessly into all of us, opening my eyes to what's possible when leaders invest in people to build a value-driven culture. Eventually returning to the corporate world, I learned entrepreneurial startup culture was where I belonged. I started a purpose-based leadership search firm called Y Scouts, carving out a new niche in the executive search space.
Many leaders wrestle with building culture without the convenience of physical space. Anthym focuses on helping leaders and their teams create that all-important sense of safety, trust and connection that drives amazing outcomes.
BENEVOLENCE-BASED TRUST FUELS HIGH-PERFORMING TEAMS
REUBEN: Why does building trust matter so much, and what can leaders do to foster a culture for high performance?
MOHR: For most of us, anything we're going to do relies on other people to help us achieve what we want to accomplish in our personal or professional lives. A sense of trust is at the core of good relationships. In the workplace, competency-based trust gets the most attention. Are the people surrounding me good at what they do? Do I trust thev'll deliver in their role? A high degree of competency-based trust is supercritical.
The other side of the coin, benevolence-based trust, is about character and vulnerability. It doesn't get nearly enough of the attention it deserves. This type of trust asks, "Do coworkers have my best interest in mind?
Are we in this together? Do I suspect anyone on the team is just in it for themselves? When I'm not in the room, will they attempt to advance their agenda at my expense?" Worrying about others taking advantage of failures or not knowing the answers breeds dysfunction.
This type of trust is hard to build. Leaders haven't been taught how to do it. This new business frontier needs to grow tremendously especially in an environment where we don't see people in the physical space as often, if at all Being intentional about creating benevolence based trust is mission critical When it's there, virtually nothing can stop a team. When it's missing, pretty much everything will get in the way.
REUBEN: What if we engineer conditions for serendipity? People talk about the power of water cooler moments – accidental interactions as opportunities to get to know somebody. We're nat in that world anymore, but what if we didn't have to rely on accidents for relationship building? What if we could be intentional?
MOHR: The evaporation of serendipity – we used to bump into our colleagues accidentally, informally, organically and serendipitously in the office, grabbing coffee, lunch or chatting in conference rooms. It's those human moments, when you're not solely focused on work, where this type of trust is built.
Those accidents don't happen in the virtual environment when we're scheduled down to the minute. We're bringing teams the idea that you can deliberately focus on this, make it habitual and not leave it to chance.
THE ANTHYM EXPERIENCE
REUBEN: How is Anthym uniquely addressing today's challenges?
MOHR: A while back, I joined a CEO forum that required new members to present "the lifeline experience." It's intimidating to share an hour-long presentation on the story of your life, especially with strangers. The group leader advised, "to maximize your experience. the more you lean into telling everyone who you are, highlights, low lights and nuanced moments in between, the more they're going 10 trust you and vice versa." I leaned in and had a fantastic experience, bearing my soul to this group of strangers.
This group's performance as a team was unbelievable and yet, they only saw each other for four hours per month, I thought, "Could we take this type of experience to the corporate world, where teams spend five days a week together? Imagine what they could do if they lived and led with this level of vulnerability."
In 2020, we decided to beta test this idea knowing folks might struggle to talk about life stories or significant moments. We created ways to unearth stories of sadness, challenge and celebration more easily using inspirational media as a bridge for storytelling. Great movies have a great story, cast and soundtrack bringing out a story's emotion. I asked myself, "How might we leverage the universal power of music to think about significant moments in our lives and build the soundtrack that supports those moments?"
With Anthym, individuals walk down life's memory lane, cataloging significant memories and music that represents them. Facilitated team sharing experiences enable connecting with teammates like never before. They may start with music that has been important in their lives, inevitably leading to stories that music represents. Some folks start with the stories then bring music as secondary discussion points. Either way, we create safety for people to share facts about themselves and events that shaped and influenced the way they show up and the music that has been a part of their lives.
The experience is intentional. Conversational serendipities are amazing, Conversations organically emerge and finding commonalities in life experiences or music opens the door for a level of connection that blows me away. These uncommon commonalities have been hiding in plain sight, and whether you've worked with someone for 10 years or two weeks, people are connecting at a human level based on these different connection points. It's a beautiful thing to see people who work together find these connections.
MUSIC IS A TIME MACHINE
REUBEN: Not everybody is extroverted. Being asked to share about yourself can be scary, so this approach makes it comfortable. While creating my Anthym five-moment intro, music sparked incredible memories I hadn't thought about in decades.
MOHR: Music is almost universal, I've never met anybody that hates music. Some are passionate about music like me. I can't go a day without listening to something. There are folks at the other end of the spectrum where they'll listen, but it's not a primary aspect of their life. Regardless, we all have songs we haven't heard in a while. Hearing one immediately has what seems like a time machine capability, taking you back to wherever you were in your life, awakening senses and reliving past moments.
I've seen the shyest, most introverted folks come out of their shell and start talking about music and what it represents for them. Stories flow. Once you hear a colleague's life story, you can't unhear it. Working with them the next day, you have a different connection. You lock at them differently and perhaps you treat them with a little more kindness and generosity – something I think we need desperately now more than ever before.
WHAT'S AHEAD?
REUBEN: What's next for Anthym?
MOHR: We're adding inspirational media: movies, TV shows, books and TED Talks to spark the sharing of life stories. Anthym began as a replacement for traditional escape rooms, g0-kart racing, laser tag-type team-building experiences. As more companies resort to virtual first environments, the significant need in the market is new hire onboarding. As a new employee, how might I accelerate a sense of connection, belonging and trust with people that I must work with and who I've never met in person?
It's hard to do that in a series of video meetings. How do you accelerate to eliminate voluntary attrition? Human-centric, onboarding experience is what we're most excited about right now.
We launched a new product focused on new hire onboarding experiences, helping new folks share more about who they are, not just what they do. Anthym enables creating opportunities to connect based upon what new team members are willing to share through music or the other media that's part of their life. Helping new teammates feel a sense of connection as quickly as possible can accelerate their productivity. If you feel like you belong, you're a part of the tear and you've but trusting relationships with teammates, you're more likely to perform at a higher level more quickly.
CONCLUSION
Successful leaders know trust is vital to building a culture that enables high performance and genuine innovation. You can leverage technology to design new experiences that redefine what it means to be together and engineer conditions for serendipity to happen. Anthym is all about creatively leveraging digital tools to facilitate enhanced authentic human connection, leading to game-changing outcomes for your team.