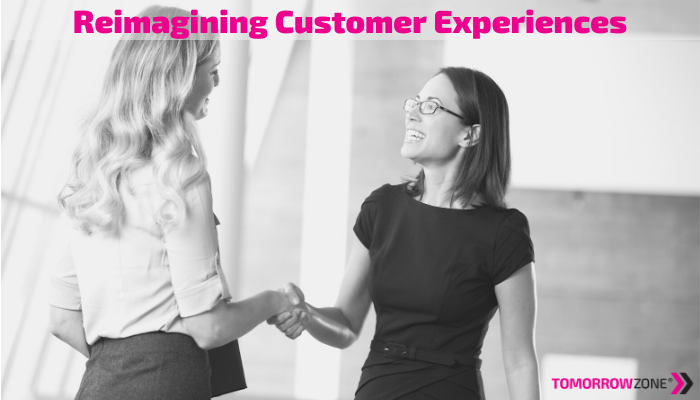 Half a year ago, the thought of starting over, reimagining your business model seemed like a luxury. Given the current disruption, it is becoming a necessity.
Now is the time to question the status quo thinking about how we do business. Revisit assumptions about customer experience. Examine policies and procedures that may be less relevant than when created initially.
In a dynamic and changing environment, rigid adherence to outdated practices can cripple your business. As you reimagine business processes to respond to immediate needs, think long term about customer experience. Imagine the customer of the future.
Shifting from Inside-out to Outside-in Thinking
Many companies become so inwardly focused they lose sight of what customers want. As one leader shared with me, pre-pandemic,
"When we asked customers to candidly share what a great experience would look like for them, it was shocking. What we believed to be true about the customer for so many years was suddenly wrong."
Given the widespread disruption of customers across many industries, it is even more critical to revisit our customer experience theories.
It is essential to revisit your assumptions about customers periodically. As you revise customer experience, start from the customer's perspective. One way to do this is to imagine a customer type. Then map out what an ideal experience of your service would look like from the customer's perspective. Then work backward to determine what you would need to do internally with process, policy, and technology to support that vision.
From Doing Business Face to Face to Doing Business Any Place
Underlying assumptions about how we do business are shifting before our eyes. The recent sudden shift to a large number of people working from home is accelerating digital workstyle adoption. Tools that were "nice to have" are suddenly essential. With digital signatures, digital payments, the ability to get on a video call with a client, perhaps conducting business will require less travel or physical contact in the future.
Many will emerge from this pandemic situation comfortable working remotely and well-versed on remote collaboration tools. This change in human behavior, skill, and technology adoption could open up new possibilities for serving customers through digital channels without geographic restriction.
As behavior changes and technology adoption increases for employees, customers, and partners, it is crucial to consider various personas as you design your future processes and customer experience and question how we do things and why. Envisioning the needs of the customer of the future is a vital consideration for your technology roadmap.
Considerations for Shaping Your Next Normal
How might you reimagine your processes to eliminate customer frustrations proactively?
Is it possible that ideas you may have rejected in the past are now possible because of the widespread shift in the adoption of digital tools?
How could your business model change if you didn't require in-person interaction to do business?
What does the virtual/digital customer experience look like for your product or service?
What are your assumptions about your customer's new context, challenges, situation, and needs?
How can you help your customer achieve their objectives and provide certainty of status throughout the process?
How does your product or service help the customer achieve their goal?
How might you bring more transparency to customer-facing interactions?